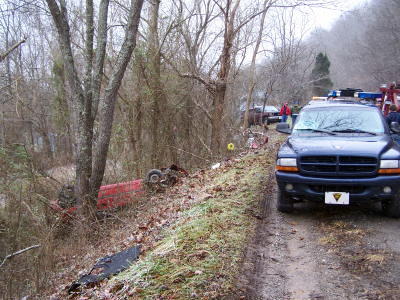 Youth escapes serious injury after after high-speed crash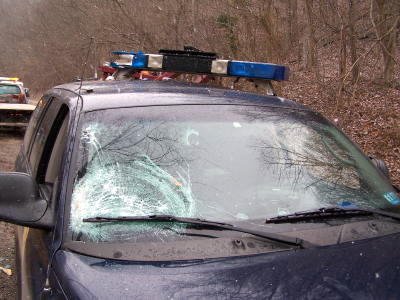 State Police cruiser damaged after striking phone cable
An Annamoriah youth escaped serious injury when his car struck a utility pole, knocking down a telephone cable and crashing over an embankment.
The crash happened just west of Big Bend on Rt. 5, mid-afternoon today.
State Police indicated Shelby Davis, about 17, miraculously escaped serious injuries after Sgt. Darrin Campbell reportedly clocked the youth at over 100 miles per hour.
Campbell said he met the youth traveling east on Rt. 5 at a high rate of speed and turned his cruiser around to intervene. Davis reportedly continued to speed and struck a utility pole, crashing over an embankment.
Campbell's police cruiser then struck the downed cable, ripping off his blue lights and smashing his windshield. The officer was not injured.
Davis was reportedly operating on a revoked driver's license, related to earlier incidents.
He was taken to Minnie Hamilton Health Care Center for evaluation, by Calhoun EMS.
The Grantsville Volunteer Fire Department also responded to the scene.