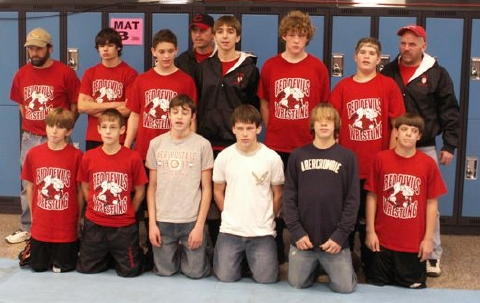 (Front L-R) Justin Yoak, Zach Hanshaw, Austin Moore, Cody Clark, Ben Laughlin and Dillon Mefford (Back L-R) Assistant Coach Dale Clark, Taylor Welch, Caden Arnold, Assistant Coach Rex Yoak, Aaron Yoak, Jacob Haught, Justin Yeager and Head Coach Elvin Hixon
Submitted by Jennifer Miller
The Calhoun Middle School Wrestling Team competed Thursday and Friday, December 29 and 30 at Blennerhassett's Clash of Champions in Wood County.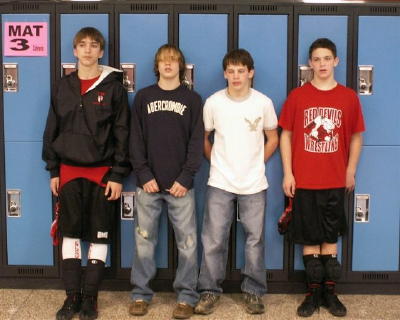 (L-R) Aaron Yoak, Ben Laughlin, Cody Clark and Caden Arnold
With only 10 weight classes filled, Calhoun wrestled exceptionally well, winning 7th place from 16 teams. Cody Clark, Ben Laughlin, Caden Arnold and Aaron Yoak led the team with 9-0 records - earning spots on the All-Tournament 1st Team.
Jacob Haught was also named to the All-Tournament 2nd Team with a performance of 8-1. CMS will wrestle again on January 7th at the Michael Motors Braxton Invitational in Flatwoods beginning at 9:00 am. Plan to attend and support this talented group of young wrestlers.
Reprint from the Blennerhassett Junior High Wrestling Page:
7th - Calhoun (3-6) This team probably provided the greatest shock of the tournament. Ranked 11th from last year, they came into the Clash with many empty slots. Despite being short handed, Calhoun County placed four individual wrestlers onto the First Team All-tournament team, second only behind tournament champion Edison. They were also the only team to score 30 on Edison, holding them to their lowest score of the tournament, 51 points. This program really knows how to train wrestlers. If they could only recruit a few more warm bodies, there is no telling how far they could go at the state tournament. Everyone who saw them came away impressed.
Wrestler Records - listed first, Clash of Champions Record; listed second Season Record
Justin Yoak (84) COC - 6-5 Season 17-8
Zach Hanshaw (90) COC - 6-3 Season 10-4
Austin Moore (102) COC - 5-4 Season 14-9
Cody Clark (110) COC - 9-0 Season 23-0
Ben Laughlin (116) COC - 9-0 Season 22-1
Taylor Welch (123) COC - 1-8 Season 5-9
Caden Arnold (128) COC - 9-0 Season 20-3
Aaron Yoak (135) COC - 9-0 Season 22-1
Tim Sutro (145) Season - 4-4
Jacob Haught (155) COC - 8-1 Season 19-4
Justin Yeager (171) COC- 5-4 Season 12-10
Chad Yoak (190) Season 4-1
Evan Mace (110B) Season 5-2
Dillon Mefford (116B) COC (9-0) Exhibition Season 13-2
Brandon Reed (123B) Season 2-2
Shane Cummings (110C) Season 3-0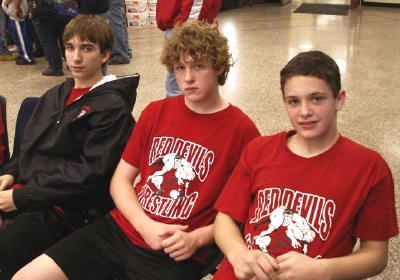 Just Chillin' ... Aaron, Jacob and Caden waitin' to wrestle