Submitted by Tina Aldridge

At the November meeting of the Health Sciences & Technology Academy (HSTA), 3rd year Marshall University medical student Joseph Butcher, spoke to HSTA students regarding college preparation, high school classes necessary to prepare for careers in health science and technology, and differences between high school and college life.

In addition Joseph and Anna Reno, Northern WV Rural Health Education Center Region 2 Coordinator, presented the students with graphing calculators. The calculators are for the students to keep and will be practical for classroom work and HSTA projects.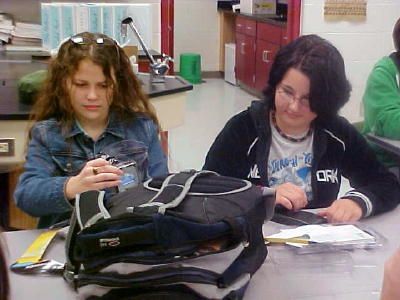 Kayla Miller and Beth Richards receive calculators
HSTA is a 9-12th grade math and science program, which encourages aspirations, opens doors, empowers minority and underrepresented students and rural communities. The HSTA program is operated from the Robert C. Byrd Health Sciences Center of West Virginia University to provide academic enrichment and other orientation to careers in the heath sciences for students in grades 9-12.
Calhoun HSTA has 14 students, the teacher coordinator for the program is Tammy Yoak, who is a science and math teacher at Calhoun Middle/High School.
West Virginia, like many other states, has a severe shortage of health professionals. It is the HSTA Program's goal to increase the number of high school students from rural communities who pursue health-related careers and return to provide services in their communities.
The mission of the NWVRHEC, a community-based organization, is to bring quality healthcare to the underserved populations in 23 West Virginia counties by training, recruiting and retaining health care professionals. The NWVRHEC serves 23 counties including Barbour, Braxton, Brooke, Calhoun, Doddridge, Gilmer, Hancock, Harrison, Lewis, Marion, Marshall, Monongalia, Ohio, Pleasants, Preston, Randolph, Ritchie, Taylor, Tyler, Upshur, Wetzel, Wirt and Wood.