By Dianne Weaver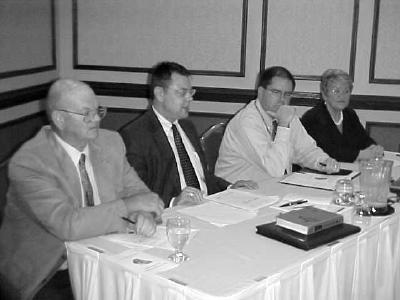 Challenge members had a conversation with panel members (L to R) Del. Larry Williams, Dr. Howard O'Cull, Jay Cole and Linda Martin
Challenge WV's Annual Fall Conference was held recently at Embassy Suites in Charleston. The conference centered on creating a dialog about community schools and eliminating long bus rides.
The theme was "Our Communities, Our Schools," with a number of Challenge members participating in what coordinator Linda Martin said was "a good conversation."
One-hundred and twenty one West Virginia schools are still on the block to be closed, mostly elementary schools.
Jay Cole, representing Gov. Manchin's office said the Governor would like to see seamless education, a connection between education and economic development, in addition to technology as a key to access and quality.
Cole said "I was profoundly disturbed by the drop in reading scores, a total of nine points since 2002."
Cole said the governor is on record supporting community based schools, after being confronted that Manchin seems to be backing away from community-based education and eliminating long bus rides.
Challenge member Jana Freeman of Preston asked why the governor does not appoint state school board members in favor of community-based education.
"There has to be a way for you (Challenge) to get your ideas into the mainstream of public policy," said Howard O'Cull, Director of the WV School Board Association.
O'Cull said "Public education needs its external critics and its internal heretics."
He spoke about accountability, saying "With a professional system it is more difficult for citizens to make an impact," saying what school boards do is act upon laws passed by the legislature and rules passed by the state board," they are not constitutional bodies.
"It would take a seismic shift to change things," he said. "When court cases involve community sentiment (like school consolidation) the court uses judicial precedent and the law."
Marge Bragg, a Challenge member from Clay County, said "The state has starved our community schools, dangling 'bigger is better' like a carrot."
O'Cull spoke about how the current school aid formula promotes school consolidation, as did Del. Larry Williams, vice-chair of the House Education Committee from Preston County.
Both Cole and O'Cull want to shift to a research-based model of decision making regarding public education in West Virginia.
Responding to a question from Mingo School Board president Bill Duty regarding checks and balances with the state department, O'Cull said "They make rules that are mostly accountable to themselves and constitutional law. They can arbitrarily decide, saying we don't like what they (local boards) are doing and therefore intervene."
O'Cull says legislators have become very comfortable with the school funding formula, which promotes consolidation.
Williams expressed concern about how it has come to pass that appointed officials have authority over elected officials, who represent their community concerns.
"Maybe we should elect state board members," he said, or at least appoint them to shorter terms. "We need to find a way to keep local schools that work."
Williams said there is a better way to address the consolidation problem by changing the school formula.
"There has got to be a way for funding to kick in to keep local schools," rather than to keep closing them, he said.
Williams said money is being spent on transportation that could be placed toward maintaining community schools, expressing concern about focusing on college-bound preparedness creating a drop-out problem. Linda Martin of Challenge said "It is amazing to me how educated officials ignore the research about small community schools working better."
"Challenge has always based their actions on hard research," she said. "We're not nostalgic, we want education to be cutting edge, it's what works."
Martin reminded the panel that property taxes pays for education in WV. She said "Corporations own 51% of the states surface and 76% of its minerals. They only pay 16% of the property taxes. You and I pay 84%. West Virginians pay about $8,600 per student, with the state 39th in achievement.
Martin said Challenge's research shows that WV increased the money spent on education, among the highest in the US, and the money mostly went to the top, administration and bus transportation, not teachers or instruction.
"With 15 Ph D's in the state department, they can't produce accurate numbers about kids exceeding the guidelines for long bus rides," Martin said. There were 36,000 kids exceeding the guidelines, according to the state, in 1996.
"Last year the state put out bogus numbers claiming only 18,000 exceeded the guidelines, after they closed more than 50 schools."
She said children 3-5 years old in early education programs are encountering long bus rides, many over an hour each way, others one-and-one-half hours.
"Then there are the lies that school consolidation saves money. It has never saved a dime," she said.
Martin said Challenge members want what's best for public education, and praised the group for their grass-roots participation.