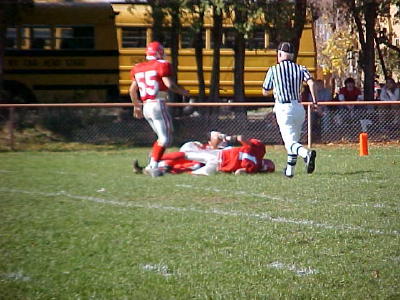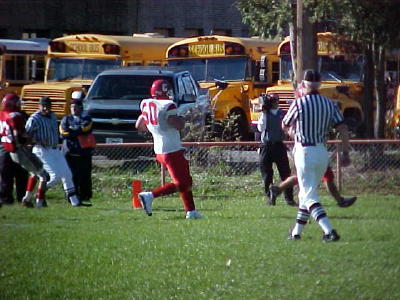 Two runs for TDs at Saturday's play-off game ...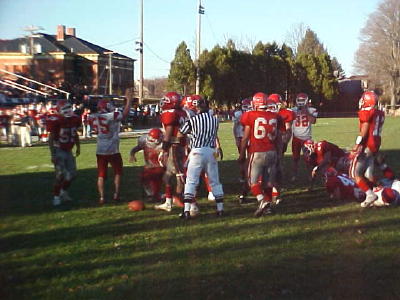 ... and this one, they plowed over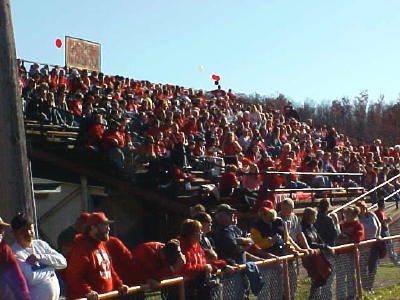 A huge crowd of Calhoun fans attended the play-off game at Elkins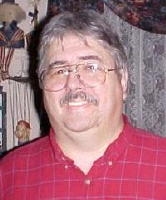 By Gaylen Duskey
If. It's a very small word that has mighty big ramifications.
If Calhoun's defensive player hadn't slipped, Tygarts Valley may not have scored its first touchdown.
If Calhoun's defense had wrapped up Ryan Dewitt at the line on a screen pass he may not have scored the winning touchdown.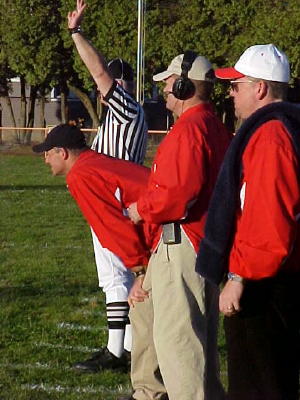 It was a tense game for Calhoun coaches
If someone hadn't run into the Tygart's Valley punter with time running out maybe the Red Devils would have been able to mount a late drive.
And the biggest "if" all, if Calhoun's "walking wounded" had been more "walking" than "wounded" perhaps the Red Devils wouldn't have suffered a season-ending 35-28 setback at the hands of Tygart's Valley in the first round of the Class A playoffs Saturday afternoon in Elkins.
But all those "ifs" went against the Red Devils and the 2005 campaign comes to an end with an 8-3 record and an 11th-place rating in the state.
Calhoun played the game with at least four senior starters banged up to one degree or another.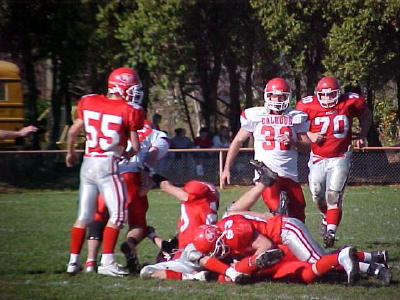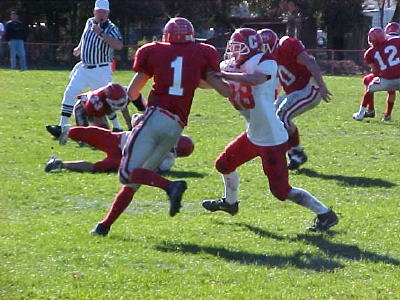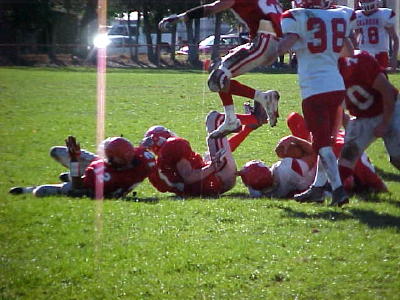 All-State player Paul Goodrich was trying to play after suffering a nasty hip pointer in the Red Devils' last game of the regular season.
He was effective but not the same player who smashed opposing defenses for 2,050 yards and 25 touchdowns. Playing on one leg against Tygarts Valley he had 86 yards and a touchdown on 23 carries. It was the only time this season that he failed to rush for at least 100 yards.
Chad Conley and Justin Whipkey both played. Conley played less than three weeks after suffering a knee injury while Whipkey toughed it out on a leg that had been fractured earlier in the season.
Add to that the untimely loss of Steven Cunningham to a broken collarbone.
He had just returned to the Red Devils' lineup after suffering a fractured leg.
Still the Red Devils - walking wounded and all - gave Tygarts Valley a game. Calhoun jumped on top of the sixth-ranked Bulldogs, who will take their 9-2 record into next weekend's game at Buffalo of Putnam, early in the game. The Red Devils took a 7-0 lead when Jeff Goodrich took in a 37-yard scoring pass from Matt Houchin.
After Tygart's Valley tied the game the Red Devils once again took command, this time on a 14-yard run by Paul Goodrich.
The Bulldogs grabbed a 15-14 lead moments later when they scored and converted a two-point play.
But Calhoun bounced back quickly as Tyler Shartiger took the ensuing kickoff and ran it back 80 yards for the score putting the Red Devils up 20-15 following a failed two-point conversion.
Tygarts Valley grabbed a one-point halftime lead, 21-20, with a late touchdown.
The Bulldogs moved the advantage to 28-20 after intermission only to have Calhoun made a valiant comeback to knot the score.
A short run by Conley with 9:59 remaining brought the Devils within two, 28-26, and a Houchin to Shartiger pass brought the game to deadlock.
It did not take Tygarts Valley to long to regain the lead and it happened on a play that ordinarily would have been stopped for little or no gain.
Tygarts Valley quarterback Derrick Fike hit Dewitt with a screen pass and a Calhoun defender hit Dewitt at the line of scrimmage. But Dewitt bounced off the defender and rambled 52 yards for what proved to be the winning score.
Calhoun had two opportunities to tie things up again but one series resulted in three-and-out, which proved to be the last time the Red Devils had the ball.
Calhoun stopped the Bulldogs forcing a punt on fourth down. But the Red Devils roughed the punter giving the ball back to Tygarts Valley.
The Red Devils again appeared to stop the Bulldogs forcing Tygarts Valley into a fourth-and-21 situation. But with the ball in Calhoun territory the Bulldogs decided to gamble and came up with a 25-yard completion.
Seconds later the game ended, ending a great football season.