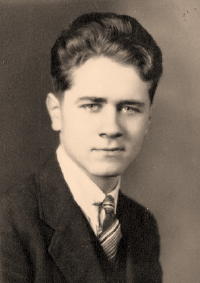 Don Yoak honored for civic contributions,
shown here as a graduate of Calhoun County High School
2005
Former Calhoun resident, the late E. Don Yoak, was named the Hubert Anderson, Jr. Award winner for 2005 by the WV Assistive Technology System advisory board.
The award is given to individuals who have provided exemplary service and advocacy on behalf of West Virginians with disabilities.
Don was an advocate for individuals of all ages with disabilities and long-term care issues.
He was faithful on behalf of disability-related legislation in writing letters and making phone calls to his many friends who held political office on the national level.
This included Senators Robert C. Byrd and Jay Rockefeller, and his political friends on the state level.
Don passed away in September, 2004.
He served WVATS in an active way for more than ten years.
He was a one term member of the West Virginia House of Delegates and served in other positions in the Legislature for over 50 years, including Sergeant at Arms.
Don was a member of Methodist Memorial Church in Spencer, a 60-year member of Eureka Masonic Lodge, and a member of Scottish Rite and Nemesis Shrine for over 50 years.
He was always active in community issues, county, state and federal politics and was extremely proud of his political service, including the AARP, the federal Committee On Aging, Arts and Humanities and was appointed to multiple terms as a member of the National Silver Haired Legislature.
Don will be remembered for contributing to such projects as helping organize some of the first West Virginia Black Walnut Festivals. He loved woodworking, travel, people and a good political fight.
He was the brother of Grantsville resident Von Yoak and Harold Yoak of Parkersburg. His wife, Lucretia Smith Yoak, was a former Calhoun resident. (All deceased)