Thrill of the hunt (Published Oct. 11,2005)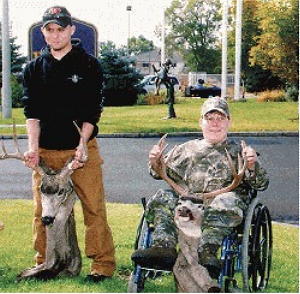 From left, Chris Hartzell and Kevin Doherty
pose with their trophies from Hunt of a Lifetime
(Photo by Debbie Raney)
Editor's Note: Kevin Doherty is a well-known Calhoun youth and Calhoun High grad class of 2005.
By Debbie Raney - Burns Times-Herald, Burns, Oregon
It's hard to tell who benefits most from Hunt of a Lifetime — the hunters or the hosts.
On opening day of deer season, Kevin Doherty made a one-shot, through the shoulder and lungs, kill on a four-point mule deer.
The successful hunt meant more than average, because Doherty is an above-average 17-year-old and a beneficiary of Hunt of a Lifetime.
But, the biggest smiles and cheers weren't from Doherty when he made his shot, they were from the people helping make his dream of bagging a mule deer come to life.
Doherty and his dad, Joe, arrived in Oregon Thursday, Sept. 29. The two flew on their first airline flight, ever, from their home in West Virginia to Portland.
They drove over the Cascades to Eastern Oregon on Sept. 30, to Meadow Creek Ranch in Riley where he would harvest his first mule deer.
Doherty is confined to a wheelchair because of spina bifida. He is an avid squirrel and white tail hunter at his home in Big Bend, W. Va., but had never gotten antlers.
This became the mission of Danny Benson, Oregon's Hunt of a Lifetime representative, and Hoot Raney from Meadow Creek Ranch.
It was the rainiest day of the Harney County autumn when Doherty, Benson, Raney and a two-man camera crew from a youth hunting show in Meridian, Idaho, worked at getting a shot at the four-point.
In spite of the weather, Doherty got on the deer and dropped him with one shot at 100 yards.
"I don't have any words for it," said Doherty. "It felt wonderful." He said his nerves weren't bothering him too much prior to the shot, and he didn't realize the cameras were still rolling until afterwards. But after he made the kill, Doherty said he began to shake.
The rest of his crew felt the same way. "I think my heart was pounding as hard as his," said Raney.
This was Benson's seventh trip with Hunt of a Lifetime. "It's always a great feeling when kids make a shot."
Benson owns a taxidermy business in Klamath Falls and will mount Doherty's deer free of charge in any position he chooses. What was his choice? "I'm going to have it looking at my dad's little (a lot of emphasis on little) white tail and have it grin." Benson said he will do the mount and get it to Doherty before Christmas. The meat from the deer will be processed free of charge and shipped to West Virginia.
The hunt in Riley began with Doherty's dad making inquiries via the Internet about Hunt of a Lifetime. He applied for the hunt and thanks to the generosity of both individuals and companies, Doherty made the trip to Oregon. Locally, the Apple Peddler Restaurant furnished meals for the people involved in the hunt and Rory and Ryan Inn donated rooms for the camera crews.
On a broader span, Savage Arms offers Hunt of a Lifetime hunters guns at cost to use and keep, Cabelas does the same for all of the clothing the hunters may need. The costs incurred for travel for the hunter and one adult are covered by Hunt of a Lifetime.
When Doherty got back to his home in Big Bend, he said the first thing he was going to do was blow up a photo of his deer and put it on the door of his high school for all his buddies to see. If his friends are anything like Doherty, they'll be amazed at the size of the buck.
Prior to seeing his first mule deer, Doherty said he couldn't understand how a four-point could be as big as what he heard everyone talking about. "I thought, I'll have to move here if they've got that nice of deer." In white-tail country, a four-point is what is referred to here as a forked-horn. The first buck that came into Doherty's sight opening morning took his breath away. He said he did manage to mutter "holy smoke." In his part of the country, the buck he shot is considered an eight-point.
At the same time Doherty was hunting in Riley, Chris Hartzell from Bend was making a Hunt of a Lifetime hunt in the Diamond area. Nick Collins was guiding Hartzell to a mule deer thanks to Roaring Springs Ranch donating a landowner preference tag to the foundation.
Hartzell said he had hunted before with his dad, Ray, but had never had the opportunity to make a kill. After a day of tracking and waiting in the rain, Hartzell got a shot at a three-point and tagged his first buck.
Hartzell's shot was with a Ruger 308 at 100 yards. He will also receive a free mount from Benson. He wants to have the memory of the hunt captured forever, so his mount will have the buck turned looking as he was when Hartzell made the shot.
Oregon's Hunt of a Lifetime Foundation made a huge step this fall as legislation was passed to grant five tags a year to the foundation. The benefactors will have the choice of hunting either elk or deer and the tags will be good statewide from Sept. 30 through Nov. 1. Youth between the ages of 12-17 will have the opportunity to apply for the tags.
The crews filming both hunts were from "Kid's Outdoors," a show dedicated to youth hunting on the Boise-Meridian Fox 12 Network. The show is produced by Rocky Mountain Productions, Inc. owned by Ed Sweet. Dave Horton and his son, Chris, filmed Doherty's hunt and Sweet filmed Hartzell's. The program airs 16, 30-minute shows per season. According to Horton, it takes about 80-100 hours to edit the footage of each hunt down to a 30-minute show. The two Harney County hunts will probably be aired next fall.
More information on Hunt of a Lifetime can be found at www.huntofalifetime.org
Information on the program "Kid Outdoors" can be found at www.kidoutdoors.tv