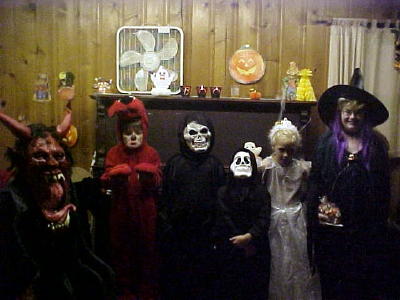 L-R Red Devil Judge and Contest Winners, Rebbeccia Newlon, Christopher Lacey, Bradley Lacy, Sarah Hayes, and Lindsey Webb
Submitted by Diana Shook
The Calhoun County 4-H Leaders' Association had a Halloween Party for county 4-Her's, on October 22. The party was held at the Mt. Zion Community Park. Over 80 attended, including parents, members and guests. The evening started with Diana Shook, welcoming everyone to the party.
Tammy Jett and Kelli Zwoll, leaders of the West Fork Mountaineers decorated the building along with the help of husbands Ron Jett and Marlin Zwoll. The building was the scariest place in Calhoun County Saturday night.
A special thank you to Phil Kisner, of the Mt. Zion Cardinals 4-H Club, for opening and closing the park.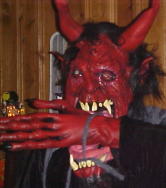 The evening continued with costume judging by Rick Postalwait (left) who made a very scary Red Devil. Thanks to Rick for a terrific job, we know they were very hard choices.
Winners were, Prettiest-Sarah Hayes; Ugliest-Bradley Lacy; Grossest-Christopher Lacey; Scariest-Lindsey Webb; Most Original-Rebbicca Newlon.
Each winner received an "I Love 4-H" sticker and a large bag of candy.
Thank you Teen Leaders: JJ Bremar, John Dodd, Elizabeth Duskey, Matt Houchin, Maria Kisner, and Anna Sampson for leading the games.
The group enjoyed bobbing for apples, pumpkin designs, grabbing for cookies, Simon Says, Limbo, Mummy Wrapping, Chubby Bunny, and Bubble Gum Contest. The evening concluded with dancing, and everyone went home with a goody bag of candy.