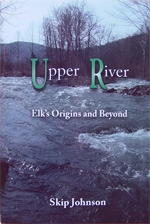 Skip Johnson's new book on Elk River, the stream that flows through the heartland of West Virginia, is now available for $27.

Johnson, a native of Herold, wrote "Upper River: Elk's Origins and Beyond." It follows the river from its beginning at Slatyfork, all the way to its meeting with the Kanawha River at Charleston, a distance of one hundred and seventy-two miles.

Upper River contains twenty-six chapters, is slightly over three hundred pages in length, and features fifteen inside color pictures of scenes along the river, including a stunning panorama of Whittaker Falls, the well-known spot at the Randolph-Webster County line located slightly over twelve miles below the start of the river.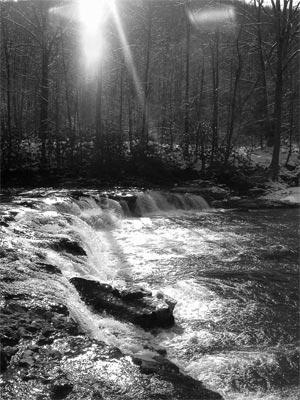 Whittaker Falls on Elk River
In addition to the Whittaker Falls panorama, other color pictures include the geologic marvel known as the Dry Bed of Elk, the picturesque Mill Pool at Cowger's Mill, an impressive view of Sutton Dam, the monolithic slab of concrete that straddles the river one hundred miles above Charleston, the forebodingly named End of the World in Clay County, and a serene evening scene on the river at Big Chimney, near Charleston.
The book has one hundred black and white photos of people and places that are part of the river's personality, including the historic church barn on upper Elk, typical mountaineer Rimfire Hamrick, wood chopping legends Paul Criss and Arden Cogar, the 1932 flood at Clendenin, and the circa 1850 chimney that gave the community of Big Chimney its name.
Elk is renowned for its diversity of fish species, and the book lists all one hundred and six of them. Another appendage is called Elk by The Numbers, which gives elevations, rates of descent, mileages, drainage area, major tributaries, and populations of principal towns along the river's path.
Check web site to order Johnson's books www.upperriver.com