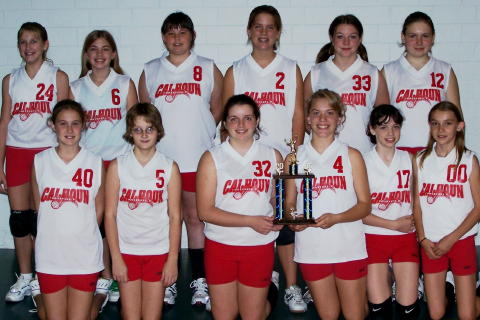 Front (L-R) Jordan Mace, Samantha Fulks, Bridget
Carter, Kayla Roberts, Karissa Reip, Amber Wilford
Back (L-R) Katie Collins, Kenzie Laughlin, Rochelle
Gerwig, Ashley Houchin, Savannah Church, and Michelle Hall
In only its second season as a Calhoun Middle School sport, the CMS Volleyball team played in the championship round of the Central West Virginia Athletic Conference tournament at Spencer on Saturday, October 22, 2005.
The Lady Red Devils opened with the first match of the tournament at 10:00 a.m. by playing Braxton, a team they had split with during the regular season. The girls started slow and lost the first game 21-25 before roaring back to win the second 25-12. The deciding third game was one of the closest and most exciting of the tournament before Calhoun fell to Braxton 31-29. The loss placed Calhoun in the loser's bracket of the double elimination tournament.
Calhoun's next match was against Walton at 1:00 p.m. Calhoun had picked up both match victories against Walton in the regular season. and the girls picked up a two game match win by scores of 25-14 and 25-16. At 2:45 p.m. Calhoun was back on the court for a rematch with Braxton with both teams needing to win to stay in the tournament. This time however Calhoun would be victorious picking up a two game victory over Braxton 25-10 and 25-20.
With a five minute break following the Braxton match, Calhoun faced the number one seed of the tournament, the Clay Lady Panthers. Calhoun had been swept by Clay in two-game matches both times during early regular season play. However, this time, Calhoun defeated Clay in two games 25-21 and 25-23.
Again, following a five minute break, the Lady Red Devils were back on the court; this time, in the championship round, facing the Spencer Yellow Jackets who were undefeated in tournament play. Calhoun opened with an impressive 28-26 win in the first game of the match. However, Spencer responded to win the second game 25-10 and the third and deciding game 25-14.
Coach Kelley Houchin and Assistant Coach Jo Lynn Wilson were both extremely proud of the girls. Coach Houchin had this to say, "our girls played their hearts out.". "You can't ask anymore of your players than to leave everything they have on the court and that is exactly what we did". "Our girls played until they were completely exhausted and then kept playing" "We are so proud of the team; their level of play; and the way they represented Calhoun Middle School".
The team would like to thank everyone that supported them this year and send special thanks to their wonderful cheering section that followed the team to the tournament Amber Wilford led the team in tournament service points with 34 points and 8 aces; she was followed by Ashley Houchin with 33 points and 9 aces, Savannah Church with 31 points and 10 aces, Bridget Carter with 25 points and 8 aces, Kayla Roberts with 24 points 4 aces and Michelle Hall with 12 points and 6 aces. Savannah Church was 49 for 51 set attempts and Kayla Roberts was 32 of 34 set attempts.
From the attack line Ashley Houchin was 28 of 32 with 10 kills, Amber Wilford was 17 of 21 with 8 kills, Michelle Hall was 11 of 16 with 6 kills, Bridget Carter was 7 of 8 with 3 kills, Kayla Roberts was 17 of 19 with 6 kills and Savannah Church was 21 of 23 with 15 kills.
Named to the 2005 All-Conference team from Calhoun were Kayla Roberts and Ashley Houchin and named to the 2005 All-Tournament Team were Savannah Church and Amber Wilford.