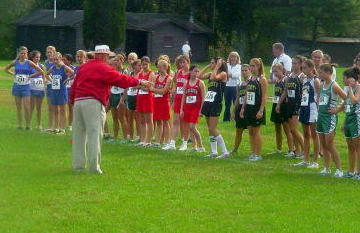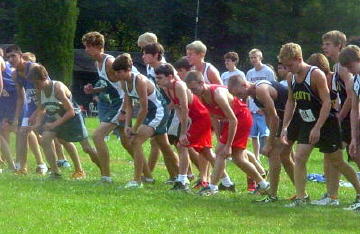 Photos courtesy of Linda Simmons
By Gaylen Duskey
Thursday was the end of the line for the Calhoun cross country team as it failed to place in the top two and no individual placed in the top 10 of the Class AA-A Regional Four meet Thursday at Cape Virgil Tate.
On the girl's side Anna Sampson, one of Calhoun's "Three Freshmigos", led the way for the Red Devils with a time of 25:29 for 28th place. Fellow Freshmigo Maria Kisner with a time of 25:30 for 29th place followed her.
The third of the Freshmigos, Elizabeth Duskey, was a bit further back with a time 29:41 for 38th place.
The meet was the last roundup for the "Three Freshmigos" since they will be sophomores when the 2006 cross country rolls around.
Senior Teresa Little was 41st with a time of 34:47.
On the boy's side junior David Lee had a time of 22:26 for 43rd place.
Freshman Dustin Simmons had a time of 30:55 for 50th.
Ravenswood was the runaway winner of the boy's side with 30 points while Charleston Catholic was second with 56.
Charleston Catholic with 33 points won the girls title while Winfield was second at 40.
On the season the Red Devils won a dual meet - something they may not have done in history - and avoided last place in a couple of other meets, something they haven't done in a while.