By Bob Weaver

Nicut resident Lester McCumbers, with the reserve of a master, took the stage at the 52nd West Virginia Folk Festival in Glenville yesterday, to fiddle his way to first place in the over 50 category.. A short time later, Eugene "Radio Man" Parsons played his way to third place in the banjo department.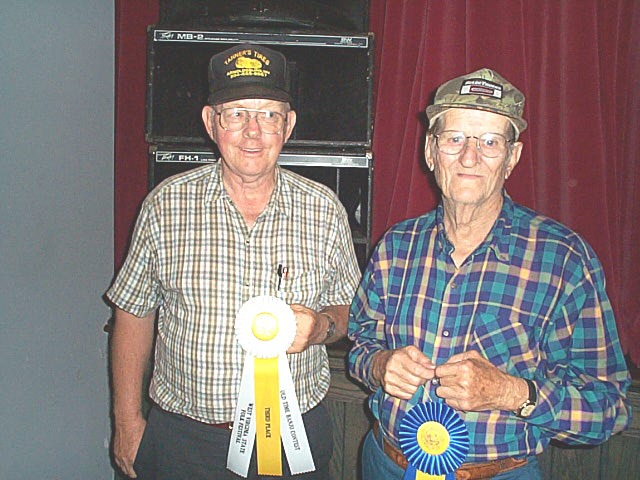 Eugene "Radio" Parson (L) and Lester McCumbers (R), festival winners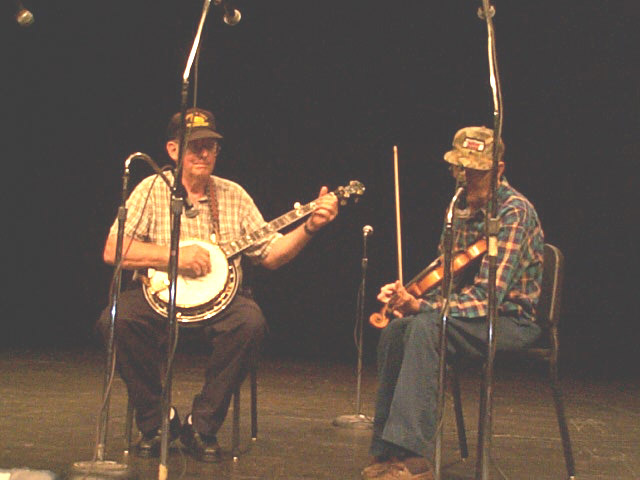 Calhoun winner Lester McCumbers (R), on stage at Glenville with Eugene Parsons

Braxton County fiddler Melvin Wine, 92, was absent, the first year in many. "Melvin couldn't make it to this one because he had a heart attack," reported protégé Jake Krack. "He was hoping to get out of the hospital this morning, but it didn't happen." The 16-year-old Nicut recording artist also studies with Lester McCumbers. Another Orma "newcomer" is Dorce Sears.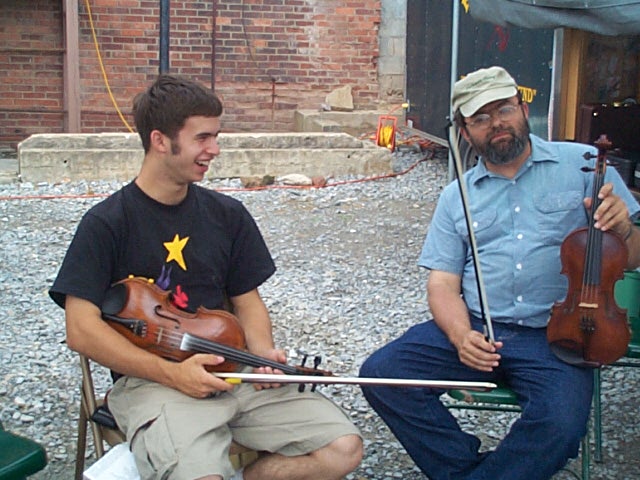 Jake Krack misses his friend Melvin Wine

Jake will be playing in the under 50 group of fiddlers today (Saturday) at 2 p.m. in the Glenville State College Fire Arts Building. He came in first last year.

The names of Calhoun's Appalachian music makers are dropped during casual conversation or during music competition, names like Cottrell, Parsons and McCumbers, and many more. Even the Mayor of Five Forks, Willard Jones, and some of his pickin' and grinnin' friends were around the festival, although they did not enter the competition.

The old-timers include folks like the late Noah Cottrill, who sprung from Crummies Creek near Bear Fork, and Jenes Cottrell, who spent most of his days over at Nebo. Nearly all of Calhoun's outanding musicians are releated, including the McBrides, who are as near professional as you can get.

The McCumbers Brothers built an admirable reputation, and once traveled professionally, but today we have folks like Molly Cain, Bruce Jones, Ron and John Truman, Dave Cottrell, Rick, Jeremy and Josh Falls and their mom, Mae Cottrell Budden and the Tanner Boys, who barely live over the Calhoun line in Clay.

They're better known in the greater world of mountain music, revered and admired, than here in Sunny Cal. What's that saying about prophets in their own county?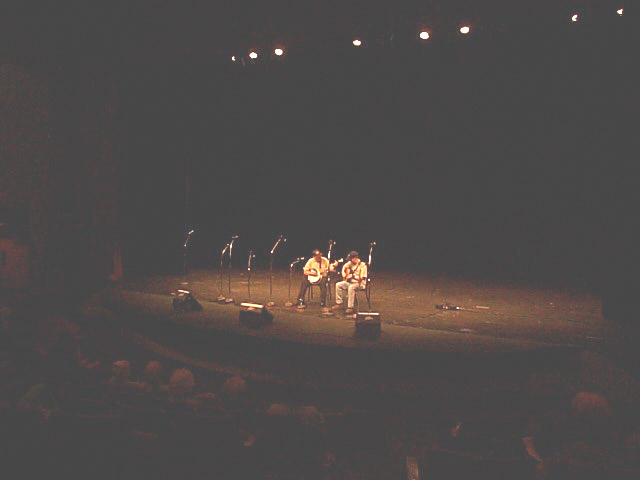 Calhoun musicians are known far and wide. Shown is Eugene Parsons on stage

Eugene Parson's mother Pheobe, is still at it, now in her 90's. "We'll have her down to the house in a few days and she can tell you a few things," said Eugene. We will show up to see what she has to say and maybe she'll make a little music.

Last Saturday, Larry Cottrell and a half-dozen West Fork boys took the stage at the Calhoun County Park to play with Johnny Staats and his group.Cottrell recalled that "Jenes Cottrill made banjos out of old Buick transmissions." If you know about bluegrass music or enjoy the celtic-folk sound, the Calhoun tribe would make you proud.

The West Virginia Folk Festival concludes today with gospel music, storytelling, horseshoes, ballads, marbles, dancing, jam sessions and the grand parade at 1:30 p.m. At 9 a.m. today a special tribute to Dr. Patrick Gainer will be delivered in the GSC Recital Hall.