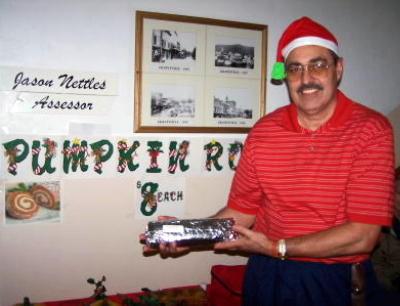 "Get you pumpkin rolls. Get your Pumpkin rolls,"
says bell-ringing Wayne Denham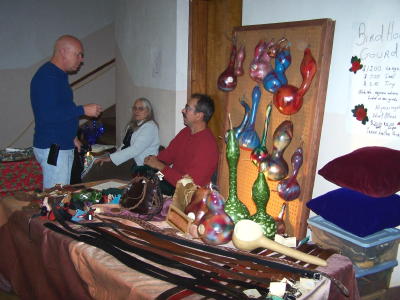 Booth has selection of decorated gourds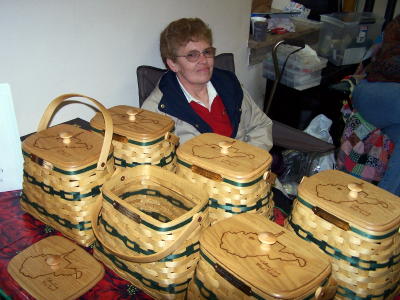 Calhoun Wood Festival is selling specialty baskets

Hometown Country Christmas Craft and Gift Show started yesterday and continues through Friday, in the courthouse at Grantsville.
Thousands of items are on display on three floors.
This year the show has lots of vendors selling art, crafts and other gift giving items. Organizations and individuals are also selling food items.
Show hours: Thursday 9 a.m. to 4 p.m. and from 9 a.m. until after the annual Christmas Parade on Friday.
The Christmas Parade kicks-off at 6 p.m. in Grantsville, with Margaret Cunningham being the Parade Marshal.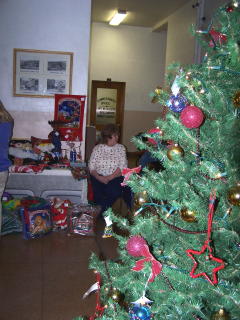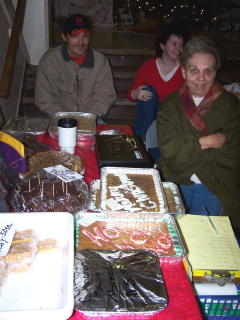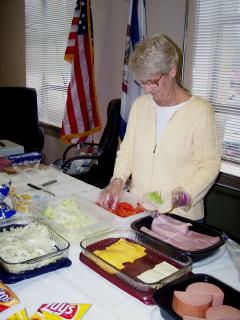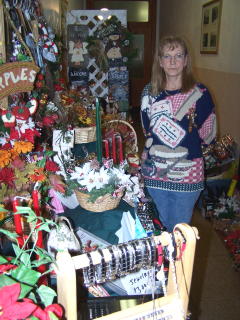 CHURCH SELLING HOMEMADE PUMPKIN ROLLS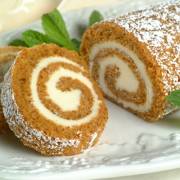 Do you have company coming for Christmas? Have a meal you have to prepare a special dessert for? Every one loved your Pumpkin Roll at Thanksgiving and they want more! Let Knotts Memorial United Methodist Church help you out.
Knotts' will have a special limited edition of their delicious homemade pumpkin rolls, with or without nuts, serving 10-12. They will be available to you on a first come, first serve bases at their booth in the courthouse during Hometown Country Christmas, November 30th-December 1st. The pumpkin rolls are $8 each.
RELAY FOR LIFE TEAM SELLING DELICIOUS HOAGIES
The E-Lemonade-Ors Relay For Life Team from Grantsville's First Baptist Church will be selling their "famous" hoagies, chips and dessert for $5 at Hometown Country Christmas. The team will be taking and delivering orders at the time that is convenient for you.
Stop by the E-Lemonade-Ors booth and help them raise money for the American Cancer Society.
The team will also have some jewelry, bandannas, key chains and caps for sale.
For information, contact Sue Oshoway 354-9204.