By Bob Weaver

Brenda Nicholas Billingsley is a trauma survivor. The twenty-three-year-old Stumptown woman has made a miraculous recovery after being in critical condition for days at Charleston General Hospital. She was suffering from injuries received in a two-car collision near Orma on May 26.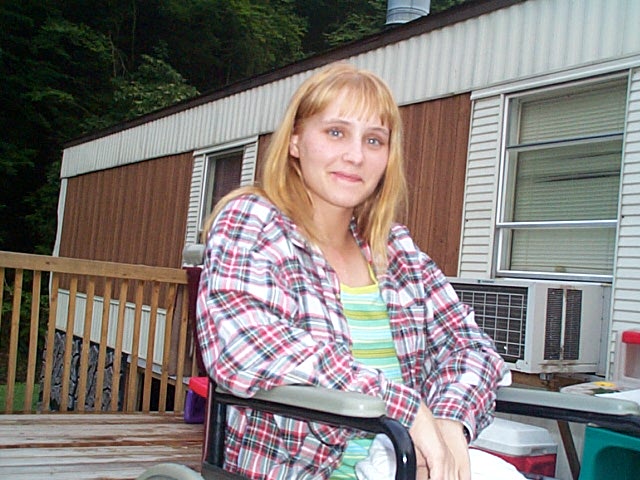 Brenda Nicholas Billingsley - "A Miracle Happening"

Brenda was released from the hospital last Friday, and with the help of crutches went to Wal-Mart over the weekend. "The good Lord had to do it for me," she said.

"I don't remember the wreck at all," she said. Billingsley was driving north on State Route 16, returning from her job at Go-Mart at Big Otter.

One of her therapists said a plaque should be erected in the hospital corridor about her recovery, stating it was "A Miracle Happening." Physicians and nurses were stunned when Brenda rallied on June 9th. They told her family "We've done all we can do. It is now on God's clock."

Her mother, Dawn Nicholas, said she sat up and started talking. "She wanted a pizza and a Pepsi," she said. After being in a coma for days "Her eyes were sharp and bright. The doctors could not believe it."

After being life-flighted from southern Calhoun, Brenda underwent emergency heart surgery, after which suturing was impossible because of massive swelling. Surgeons performed an intricate procedure on her heart which was damaged in the crash, repairing a valve. Besides internal injuries, she received some third degree burns and a crushed ankle and foot.

Her parents Tim and Dawn Nicholas slept in the ICU waiting room for days, never leaving the hospital. "We didn't think she was going to make it," they said.

The family expressed their gratitude to the people of Calhoun who prayed for Brenda's survival, and the care and treatment she has received after the accident and in the hospital.

The driver of the other vehicle, Arnoldsburg resident Naomi Ruth Dawson, 65, was reportedly in fair condition at Charleston General. State Police reported she was cited with driving under the influence with resulting injuries, driving left of center and failure to maintain control.