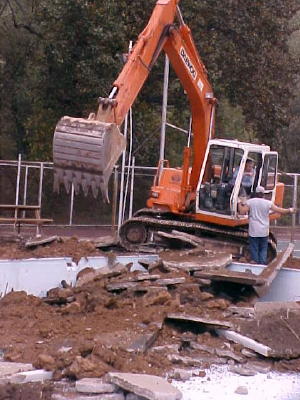 By Bob Weaver
Demolition began today on Grantsville's forty-three-year-old swimming pool.
Thousands of area kids will likely reminisce about their early swimming days in the county's only public pool, recently closed down by the town council.
Contractor David Cain removed some of the salvageable items from the property and began filling the pool in earnest.
The block shower rooms and office building will be dozed into the hole this morning, said Cain.
The pool was the vision of a small group of high school students in the late 1950s. One was Emily Toepher, daughter of long-time county physician Dr. H. C. Toepher, who dreamed that a swimming pool would be a great thing for county kids.
The kids formed a group called the Student Recreational Council.
"The vision became reality with the hard work of the Grantsville Jr. Women's Club," said JoAnn Propst Stevens, who was a member of the group in the early 60s.
The club raised $2,500, which was matched by Dr. Toepher, enough to obtain a federal grant to complete the project.
"That $2,500 was hard to come by, back then," said Stevens.
"Back then, families didn't have a swimming pool of any kind on their property, so it was a big thing," said Stevens.
Emily Toepher died shortly thereafter, suffering from juvenile diabetes.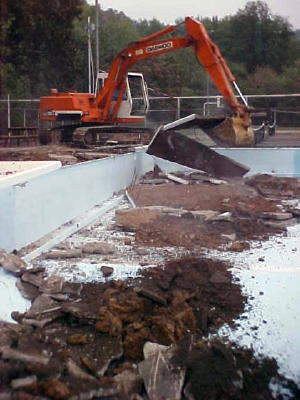 In the 60s, there was little concern the pool was built on the floodplain, but it became almost impossible under today's rules to get funding to make upgrades.
Besides, the area has lost a lot of population during the past 43 years, which includes young folks who would utilize the facility.
Grantsville has lost half of its population in that time span to about 550 residents.
The county school system has lost over 500 students since 1990.
The pool has been an "in the red" operation for several years, and it continued to get much worse.
Grantsville's council members and former Mayor Neil Blankenship said they regretted the closure.
The county, once again, is without a public swimming pool.