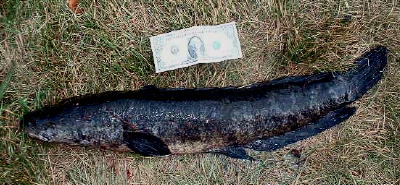 Photo courtesy of Cait Gillespie
for the State of Maryland Department of Natural Resources
Are the snakeheads headed toward West Virginia?
Hundreds of non-native snakeheads were found last Sunday in northern Virginia waters.
Fishermen on Dogue Creek near Fort Belvoir, Virginia, say they found hundreds of snakeheads when the creek was swollen with rain.
They caught at least 80 snakeheads, using nets and three-pronged fishhooks.
Anglers say there were still hundreds more in the creek.
Snakeheads are native to China and Korea. They were found in the Potomac River and its tributaries last year, two-years after their first appearance in a pond in Crofton, Maryland.
Scientists are concerned that the breeding population will compete with native fish, throwing the ecosystem out of balance.
The snakehead has yet to reach West Virginia, but the state Division of Natural Resources has put out warnings to fishermen to be on the lookout for the strange-looking fish.