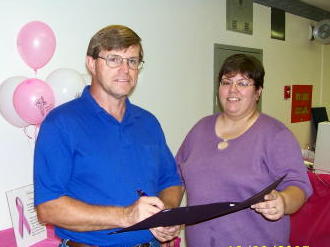 County Commissioner Rick Sampson and Women First Champion
Barb McKown proclaim October as Breast Cancer Awareness Month
Submitted by Barb McKown
Breast Cancer Awareness Month was kicked off with a celebration hosted by Women First at Minnie Hamilton Health Care Center
A mini-health fair was available to all participants with vendors, Friends of MHHCC, Mid-Ohio Valley Health Department, Rural Health Education Center, Hallmark, Mid-Ohio Valley Health Department, American Cancer Society and Breast and Cervical Cancer Screening Program. All participants were offered free clinical breast exams performed by Pat DeMaio, FNP. Breast Health Bingo was a fun yet informative session with all participants receiving a prize.
Carrie Malorey of St. Francis Hospital in Charleston was the special speaker for the morning. Carrie offered tips for successful self-breast exams and displayed models to help the women recognize the signs. The participants were then treated to a luncheon. Following the luncheon, the participants welcomed the kids from Minnie's Rainbow Day Care to release pink and white balloons to honor all the men and women who have faced breast cancer. To complete the event, County Commissioner Rick Sampson signed a proclamation declaring
In recognition of the important lifesaving early detection practices available for breast cancer, I Rick Sampson, of Calhoun County, do hereby proclaim Monday, October 3, 2005 as West Virginia Breast Cancer Awareness Day and October 2005 as Breast Cancer Awareness Month. I urge all Calhoun County women to become aware that they are at risk for breast cancer and to discuss a screening program with their health care providers.
Women First will be hosting other events throughout the year. We would like to encourage all women to be healthy, active and happy. For more information or to become part of the group, please contact Barb McKown at 354-9244. A special thank-you goes to Women First members Trish Valentine, Katheryn Burrows, Kathy Hall, Kelley Cain, Harriett Dial, Carrie Brainard and Anna Reno.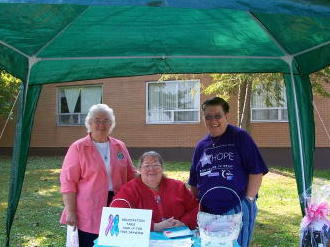 CEOS Pat Radabough, Trish Valentine
and Katheryn Burrows help with the event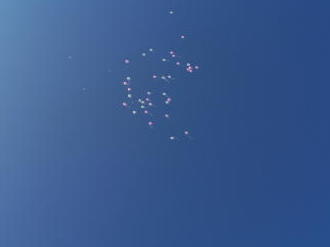 A blending of generations release pink and white
balloons in honor of those who have fought breast cancer