Submitted by Barb McKown

The first All-Cancer Survivor Dinner was held Monday, October 3, to honor all those who have battled cancer and won.

The theme for the evening was "Light Your World With Hope." Twenty-five survivors registered for the dinner with fourteen attending.

The survivors and their guests were greeted at the door where they received a pin with a pink ribbon in honor of Breast Cancer Awareness month.

Following the welcome by Women First Program Champion Barb McKown and Invocation by Pastor Rick Metheny, guests enjoyed a hearty meal of baked steak, mashed potatoes, green beans and home-made rolls. A variety of cakes were offered for desert.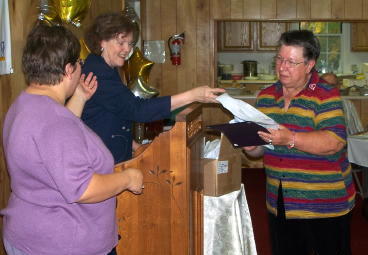 Katheryn Burrows receives her award for being the longest cancer survivor
After the dinner, time was taken to recognize those attending the dinner. Each survivor was presented with a certificate and gift bag, recognizing the number of years they had been a survivor. Katheryn Burrows was honored for being cancer-free the longest at twenty-six years.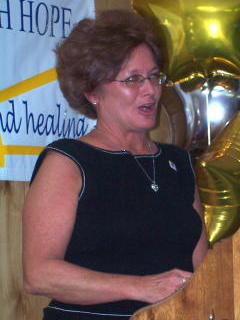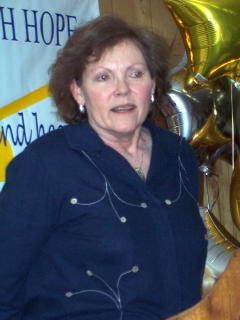 Ann Lerch (left) discusses the importance of spreading the message of hope
Harriett Dial (right) encourages survivors to shine their light to the world
Speaker for the evening was Ann Lerch. Ms. Lerch is on the board of the American Cancer Society and is passionate toward spreading a message of hope and treatment options. Following Ms. Lerch's speech, Kelley Cain presented the "Cancer Patient Remembrance" with assistance from Women First members Anna Reno, Sally Davis, Harriett Dial and Katheryn Burrows. Barb McKown then signed the song "Light Your World".
To close the evening, each person was presented a flashlight and the lights were dimmed in the room. By number of years, the survivors were asked to turn on their lights. Those that were family and friends were then asked to do the same until the room was no longer several small lights but one strong beam. Everyone was encouraged to leave their lights on as they traveled home to light the world with a message of hope.