In 1965 Congress passed a voting rights bill that helped minorities to go to the polls, US combat troops arrived in Vietnam and started bombing North Vietnam, President Lyndon Johnson launched his war on poverty with his "Great Society" program, Malcolm X was assassinated, Bloody Sunday in Selma, the Watts Riot in LA, Russia accomplished the first space walk, "In Cold Blood" killers executed, Cuba allows citizens to leave, and among the famous who died, poet T. S. Eliot, British Prime Minister Winston Churchill, and singer Nat King Cole.
Some memorable tunes (I Can't Get No) Satisfaction, The Rolling Stones; I Can't Help Myself (Sugar Pie Honey Bunch), Four Tops; My Girl, Temptations; You've Lost That Lovin' Feelin', Righteous Brothers; Downtown, Petula Clark; Can't You Hear My Heartbeat, Herman's Hermits; Crying In The Chapel, Elvis Presley; I Got You Babe, Sonny and Cher, and that all-time favorite Wooly Bully, Sam The Sham and The Pharaohs
Some of the best films of '65, Doctor Zhivago, Cat Ballou, The Sound of Music, A Patch of Blue, Thunderball (007) and The Beatles - Help!
By Terry Harris
In 1965, 123 members of the Senior Class of Calhoun High School graduated after beginning their high school venture with 180 students.
This past weekend 45 classmates joined together to attend at least one of the three activities planned for them. Friday night there was a tour of the middle-high school by classmate Ron Blankenship, followed by attendance at the homecoming game.
Despite what Rick Fitzwater had to say about our class, no one had a cane to wave.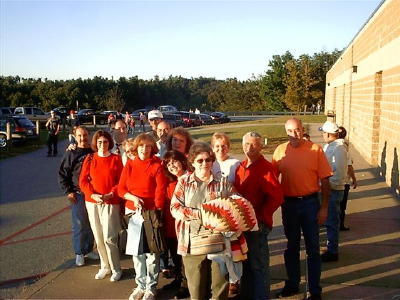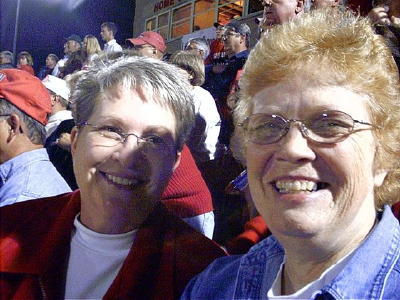 Last Saturday a luncheon catered by Aramark of Glenville State College, was held at the Senior Center in Grantsville where thirty-five classmates attended.
Class members were given the opportunity to share their present situation or reminisce of some high school adventure or an experience with a particular teacher.
Each class member attending was given a folder with addresses of all their classmates and a CD made with 30 of the top songs from 1965.
Recognition was made to Junior Alexander for traveling the farthest from Clermont, Florida.
Janet and Dale Cunningham were honored for being married the longest.
A special memoriam display honored the eight deceased classmates: Floyd Selmon, Roger Starcher, Arden Bennett, Sheral Settle, Phil D'Orazio, Danny Bailey, Tink Haymaker and Betty Earl Fluharty.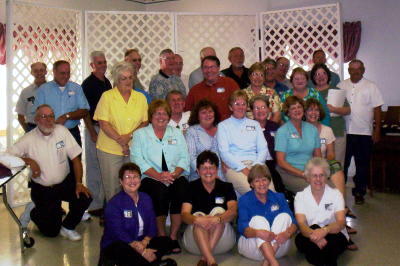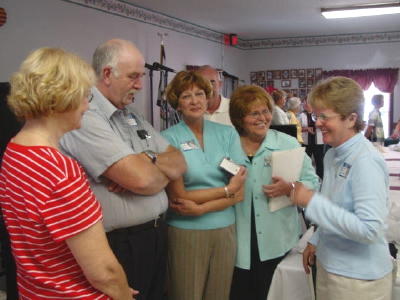 The reunion closed with a campfire and cookout on Pleasant Hill Ridge. Many commented that this was the best time they had in ages and those who didn't attend, certainly missed an experience.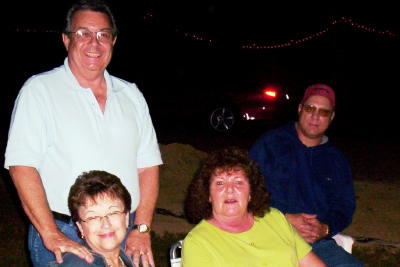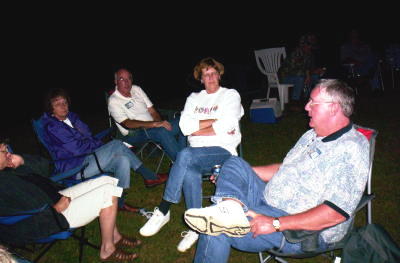 Those attending the weekend events were: Junior and Joanne Alexander, Jim and Sue Basnett Arthur, Velma Parsons Barnes, Gary, Charlotte and Crystal Bell, Linda Murphy Blair, Ron and Jackie Pitts Blankenship, Bonnie Barnes Brown, Alex and Wanda Dye Bryan, Dale and Janet Starcher Cunningham, Denzil and Vivian Dye, Lee and Phyllis Evans.
Lacy and Joyce Ball Fitzwater, Mike and Sherry Evans Fowler, Bob and Judy Freed, Kathryn Morford Gainer, Martha Wilson Haddox, Larry and Terry Snider Harris, John Heffner and Brenda Ward, Larry and Sheila Heiney, Jack Jarvis, Wilbert and Dorothy Harris Kerby, Jim and Peggy Hall Klemick, Joe and Sandra Lancaster, Sharon Hartshorn Lynch.
Steve and Donna Morris Maxwell, Buck and Patty McCumbers, Leonard Metz, Lou Harris Miller, Jim Morris, Sandra Siers Murphy, Eric Newell, Roger Propst, Eursel Roberts, Nancy Bailess Taylor, Barb Cottrell Travis, Ronald and Derri Tucker, John Vannoy, Carroll Dean Weekley, Stanley Wilson and Foster Yost and Janice Burrows.
Special thanks to Calhoun Banks, Calhoun Insurance Agency, State Farm Insurance and the J&B Drugstore for contributing favors.