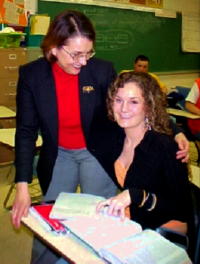 Mingo County English Teacher Bridget Call (pictured left with student) is the 2006 West Virginia Teacher of the Year.

During a Wednesday ceremony in Charleston, Call was presented with the keys to a brand new Toyota, which she will get to drive for one year. She was also given a check from Mountain State Blue Cross Blue Shield for five-thousand dollars.

Governor Manchin says the gifts are a small token of appreciation for what Call gives to her students each day.

The Teacher of the Year program is sponsored by the Council of Chief State School Officers and the Smarter Kids Foundation.

Call, a teacher at Matewan High School, told the Herald earlier this year many of her students have gone on to great success.

Students in her classrooms exhibited excitement about the daily activities, represented by Call's over-abundance of energy.

She was one of seven finalists for the title. "I believe when I was about eight I started teaching my younger cousin on a green board to do her alphabet," said Call. "And by George, she had to do it correctly," she said.

Call's teaching philosophy may be difficult to deliver with subject matter narrowly defined and most material mandated.

"I, by nature, believe in experimentation. I have a very strong knowledge of subject matter thanks to my education. I believe in trying new, innovative techniques to see what will reach our students," she said.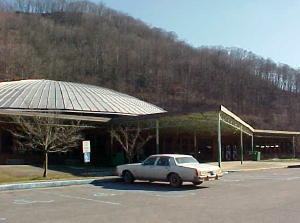 Call's community school at Matewan, constructed in the late 70s or early 80s (pictured above), is one of three high schools the State Board of Education has mandated to be closed.
Call will represent the Mountain State for the National Teacher of the Year award.