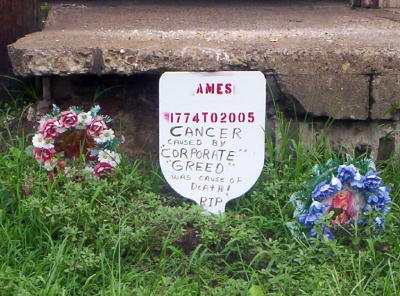 A memorial to the death of an American company founded in 1774
Ames True Temper is going through with the final closure of its Parkersburg plant, moving operations abroad, some to Mexico, China and other countries.
The plant closed at midnight.
Most of the Ames jobs have already left the Ohio Valley, many of which have been held by Calhoun and regional residents.
An estimated fifteen Calhoun workers are being affected by last night's closing.
"America's workers are dead in the water at any price," an Ames employee told the Herald. "Let's hope WalMart opens up some bigger stores, because there are no jobs."
The United Steelworkers rejected the company's contract proposal, which called for a wage reduction of 58%.
Local 1651 President Kenny Metz, said the company's proposal would cut wages from $17 an hour to $6-$8 an hour for some workers.
The proposed cuts also included drastic reductions in health care benefits, vacations and holidays.
"They proposed a $5000 deductible per individual and $10,000 per family on the health insurance," reported employees.
Members of Local 1651 voted 140 to nothing against the proposal.
Ames True Temper notified Parkersburg city officials in July that the lawn and garden tool manufacturer planned to close the plant September 15th.
There are 162 employees at the Parkersburg plant, following other operations being shifted abroad.
Ames, one of the Mid-Ohio Valley's oldest plants, was known as the shovel plant, and has employed thousands of regional workers across several generations.