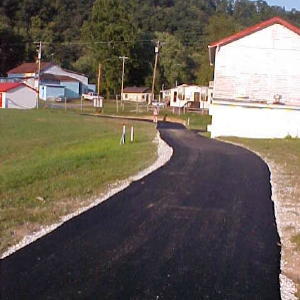 Not long after a paving contractor completed his job, folks were using the new walking trail that circles Wayne Underwood Field.
Calhoun commissioner Larry McCallister said the public is welcome to use the trail. He said Wayne Underwood Field was given to the county by the local school board to be used for general recreation and public use by county citizens.
Commissioner Rick Sampson says at least two picnic shelters will be built on the complex, one immediately behind the ball field cage and the other on the old basketball court.
The commission approved $500 Monday to be used for repairing restrooms at the field.
Grants have been used to upgrade the electrical service, water service and sewer service to the field.
McCallister said there are many challenges with the field, not the least being it is on the floodplain, and is exempt from grant money for most projects.
"Still a few things have been done, certainly with the help of volunteers from the community," McCallister said.