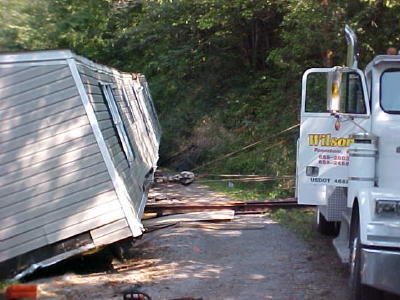 After a full days work, the mobile home blocking Daniel's
Run was removed after "rip-off" mover abandons accident
Nearly a month has passed since a South Carolina mobile home mover abandoned a large trailer at the head of Daniel's Run, after it slipped over the hill.
Yesterday, a Pennsboro moving company got the unit back on the highway using skids, pulleys and lots of manpower.
They finally delivered the totaled unit to its destination after a full days work, after it blocked the county road for nearly four weeks.
Chavis Transport Company of Moncks Corner, SC left the scene of the accident, leaving the Satterfield's of Daniels Run to find a solution, assisting their children who own the mobile home.
Chavis has denied any responsibility and their insurance company is waffling, says Diana Satterfield. "It's been miles of red tape and hundreds of phone calls," she said. "Even though it should not have been our responsibility." Satterfield said, "Chavis Transport has stopped returning calls left on their answering machine."
Satterfield said "Our family has really felt bad for our neighbors who have had to detour to get to the main road. We are grateful for their patience."
The Attorney General of West Virginia, anti-trust division, is preparing to file charges against the company, which reportedly has had problems with other customers.
"Complaints have been filed in SC and WV, and the agencies helping us have really come to bat," said Satterfield.
"This has been a real heartache for our family," said Satterfield. "We hope the incident is nearing an end, if we can just recoup our losses."
Rip-Off Report.Com reports a customer in Findlay, Ohio saying "Chavis failed to finish their contract, leaving me to hire new contractors at a price to finish their work. They left me high and dry and I want a refund."
"In the process of moving my manufactured home from Novi, Michigan to Findlay, Ohio these movers promised delivery within specified date and failed to do so, delivered two weeks late."
"Which made me have unexpected hotel charges for extra time waiting for the delivery of my home. Upon delivery...the home was just put on it's blocks without finishing the job."
"The house is un-level, they didn't tie-down the house as required by law, the water and drainage system was not re-installed. The skirt was not put back on and the vents for the furnace and water heater were not re-attached."
"They would not return my calls and later would refuse to answer any of my calls when I tried to contact them to try and resolve the issues. They are totally unreliable and I would not trust them with anything." Today, Calhoun school buses will have to take a detour.