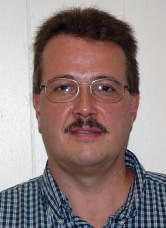 Glenville State College Associate Professor Dr. John Taylor was recently named the West Virginia Council for Exceptional Children Member of the Year for 2004.

Taylor, who has taught special education at Glenville State since 1994, prepares teacher candidates for the realities of the classroom. The West Virginia Council for Exceptional Children works to improve the lives of people with disabilities and annually honors one of its outstanding members.

The honorary plaque from the council recently arrived at his office. Taylor said he's very appreciative of the award, and said his secret to success is his connection with Glenville State students.

"I'm here at Glenville State College because of the students," Taylor said. "They're like me when I was growing up - they come from average backgrounds and I can relate to those students. I can understand the struggles they go through to accomplish their goals."

Debbie Simon, the dean of education and chair of the department of education at Glenville State, said Taylor is a special education expert who prepares his students well. Simon said GSC places 100 percent of its special education teacher graduates in jobs every year.

"Our teacher candidates have great respect for his knowledge and experience in the area of working with students with disabilities," Simon said.

Many of his students think highly of him.

"He's a really awesome teacher," said Heather Phares, a senior education major at Glenville State. "He can relate to the students. When he talks about special education, he brings it down and makes it interesting. He doesn't make it overwhelming."

Taylor has served as a special education consultant to schools since 1986 and taught in West Virginia public schools for 3 years. A native of Preston County, he now calls Weston home.

Taylor earned his doctorate in education in 1993 from West Virginia University. He said he truly enjoys the work he does.

"I feel I've never lost touch with what it's like to be a public school teacher," Taylor said. "I'm active in my field. My goal has always been as a professor to prepare students for the reality of education."