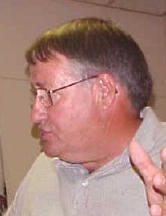 Grantsville mayor Neil Blankenship (pictured right) advised town council last night he is resigning. Following a discussion over procedures, the mayor will be resigning at the end of the month.

Blankenship said he and his wife have purchased a house at Pleasant Hill, and will be moving out of town. He also cited health reasons, saying at times the position has been very stressful.

Robert Petrovsky opposed the mayor saying a prayer prior to the start of council meeting. He said he is not opposed to Christian beliefs, "but would rather have a little Christian honesty," as opposed to a prayer.

Petrovsky confronted the mayor and a consultant the town was hiring to work on storm drainage, saying he lives by a "crater" that causes his property to flood.

He complained it has been two-and-one-half years and the "silt and garbage is still pouring out," that all he has gotten is the run-around.

Mayor Blankenship said the town now has funds to make the repair, and it will be fixed shortly.

Former councilwoman JoAnn Shock asked the mayor about resolving the problem related to the collapsing Rainbow Hotel.

Blankenship said he has talked with health officials and the State Fire Marshal's office, saying it is private property and the town does not have the legal authority to act upon it.

Another former councilwoman Loretta Stevens said "It (the hotel) has asbestos, and asbestos causes cancer ... stuff is flying out the windows."

The mayor said he was uncertain who actually owned the building, to which Stevens advised it is owned by Franko Masiarczyk.

Another resident said "It is a health hazard and structurally unsound," indicating the property is on the delinquent tax list and may have a federal lien for back taxes.

The mayor agreed it is a problem, saying "I hate trash," and he would like to see a cleaner, safer and healthier town," although he admitted Grantsville has serious financial problems.

- The mayor was given approval to move forward with about $20,000 the town has out for bid for street paving. Those bids are being processed by the Mid-Ohio Valley Regional Council. The mayor said he believes he will get some more paving money from the governor's office. Calhoun Street is to get the first treatment, he said.

- Blankenship said $5,000 obtained by Del. Bill Stemple for paving through the Budget Digest would not be available until next year.

- The town listened to a report from Mike Davis of Floyd Browne Associates, whose company will be doing a study on the town's storm sewer problems.

- A special meeting has been scheduled for September 19 to consider a replacement for the mayor.

- The mayor advised he attended a school on the flood plain ordinances.

- There was considerable discussion regarding health insurance and how it could be extended to retired town employees.

- A curfew law based on one already passed by Spencer is being considered by council.

- Town recorder Roger Propst gave a report. Council members attending, JoAnn Stevens, Charlie Whipkey, Wilbert Kerby and Gaylen Duskey.