By Alvin Engelke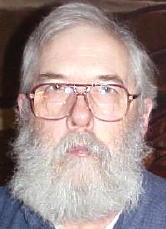 By Alvin Engelke
Janet Jett was attending to business in Spencer.
While the Creston area received a significant amount of rain and a few local roads were closed with high water for a time, the local area has much to be thankful for. Watching pictures and reading about the destruction along the Gulf of Mexico coast is hard to fathom. For certain there are advantages to being in the hills away from the ocean. The personal losses of the residents there are awful and the behavior of the looters and the political opportunists are reprehensible at the very least.
Now some still argue that things far away from here don't have any impact but the evidence seems to not bear them out. First several local residents have relatives living in and around New Orleans as well as others in Alabama and Mississippi. Robbie Lynch had been in New Orleans but his company sent him to Texas although it was understood that he intends to go back to Ohio. Dominion Exploration & Production was headquarted on Poydras Street which was shown several times on news reports. "The D Company" as Mother Hope's men call it is a significant player on the local energy scene.
With the closure of a number of oil refineries, curtailment of production and problems with pipelines and harbour facilities, interstate highways and railroads, one impact of the storm has the attention of the entire nation, including the Creston area. Some local gas stations were out of fuel and now pump prices are over $3/gal. or $126/bbl while the local crude price was quoted at $65.75/bbl on Friday, Sept. 2. Local crude is used for high dollar end products, which do not include bulk items like gasoline, diesel, heating oil, etc.
Butch Deer's oil hauling company reported that they were more than 1200 loads of oil behind in picking up local crude while Ohio Oil Gathering which acquired the former Eureka Pipe Line Co. assets has been months behind in hauling oil now for a long time. Each time oil prices go up it is difficult for local producers to be able to sell oil.
Closure of the Port of New Orleans will impact agriculture in a big way as a significant amount of the grain grown in the nation goes through that gateway, as do coffee and bananas. As time goes on the impact will be felt in many more regions.
Dorine Parsons was visiting friends up in Ohio.
Anna Reno was visiting and traveling in Kentucky recently.
Nancy Engelke was consulting with Dr. Seen.
Terry Arthur was calling on C. Glen Arthur.
Kelli Allen and Carol Campbell were attending to business in the area recently.
Russell Hupp fracted his new well on the old Howard Cooper place. Howard had been told in his lifetime that there just wasn't any oil or gas under his place. Those folks are like those who always are about saying that there is nothing more to discover, nothing more to learn, etc.
Paul Wise, a landman for Cabot Oil & Gas was in Creston looking for leases. His angle was, "You might as well go ahead and lease because if you don't we'll come up to the line and angle drill and take it all anyway". One might say that he painted a rather clear picture of the way he viewed his employer's operations. He said the company was drilling 4,000 to 5,000 foot wells, did not want to unitize and did not want deep rights or gas storage but when he brought the lease it called for 640 acre units, gave a detailed procedure for conversion to storage and had lots of other, uncipherable language that did not seem to benefit the owners of the minerals.
Area residents have been harvesting their tobacco. The rain brought hay harvest to a standstill although some was moved to make sure that the West Fork did not wash it away. The bad flooding on the West Fork was pretty much restricted to areas south of Arnoldsburg.
David Smith has a timber job going on out on the end of the Umstead. Lots of high dollar logs have been hauled from somewhere out there.
One local resident noted he had received a letter from a government agency stating that the folks that had been paying him his pension were now insolvent and that a federal agency had taken over. Such is not the sort of thing that makes for joy, cheer and happiness.
Scott Sampson was attending to business in Creston one day last week.
Russell Davis, the fellow who was dealing drugs out of a trailer down on the Petty place, was given just over a 5 year term in the federal slammer after the big bust involving the Detroit gentlemen and the go go girl in Elizabeth. Earlier he had been a key player in the Tattoo Vince murder trial in Roane County. Some of those folks were said to have eaten one of their victims.
Former Little Creek resident Charles B. White, Jr. who is now the Roane County Clerk celebrated the big 5-0 with a big party. Among his "gifts" were some very special newspaper articles.
Jeff, Austin and Alley Oop Westfall, Andrea and Brandon Ferrell, Melissa Ferrell, Amanda Burton and boys Shawn & Devin were among those visiting Mr. & Mrs. Carl Ferrell and Amy.