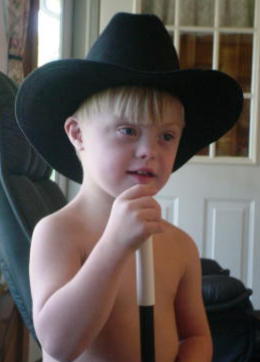 Connor enjoys playing with his brother Clay
and two sisters, Claire and Chloey
Submitted by Tracy Lancaster
Connor Boggs, 4 year old son of Steve and Paula Boggs of Arnoldsburg will participate in the Buddy Walk in Charleston, WV on October 8th.
The Buddy Walk was developed by the National Down Syndrome Society in 1995 to promote acceptance and awareness of people with Down Syndrome.
Connor's Crew, made up of family and friends, will spend the month of September holding fund raisers to raise money for Down Syndrome Network of WV (DSNWV). See www.dsnwv.org
The mission of the DSNWV is to enhance the lives of individuals with Down Syndrome by providing information, resources and support to families and professionals and by promoting awareness and acceptance of individuals with Down Syndrome.
Anyone wishing to make a pledge in honor of Connor, make checks payable to DSNWV and mail them to:
Paula Boggs
PO BOX 165
Arnoldsburg, WV 25234
Other Fund raisers include ...
A Sausage Gravy and Biscuit Sale at Speedy Mart in Arnoldsburg on September 8th from 6 to 9 a.m. Businesses may pre-order breakfast for pickup by calling Tracy Lancaster 655-9905 the day before the sale.
A Hot Dog & Bake Sale at Speedy Mart on September 13th and 15th from 11 a.m. to 1 p.m. Business may also pre-order lunch by calling Tracy Lancaster 655-9905 the days before the sale.