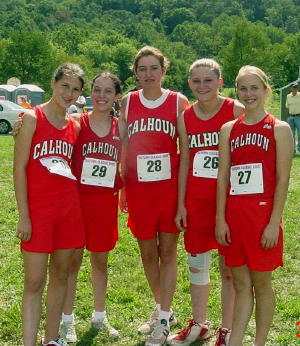 High School Girls members (L-R) Elizabeth Duskey, Anna
Sampson, Teresa Little, Grace Keaffaber, and Maria Kisner
By Gaylen Duskey
Normally an eighth-place finish would not be reason to jump for joy, especially when that finish came in a field with only nine teams. But when you've not finished anywhere but last since "I can't remember when" finishing eighth out of nine is a real good feeling.
And that's what happened to the Calhoun High School girls cross country team Saturday in the Autumn Classic at St. Marys.
The Red Devils had 219 points to easily beat Lincoln High School, which had 252. In cross country the lower the score the better.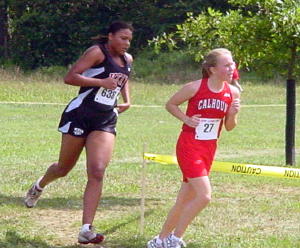 Maria Kisner sprints past opponent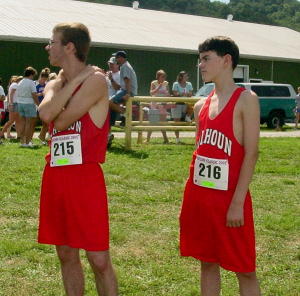 David Lee and Dustin Simmons warm up for Boys high school event
The field included Class AA-A powerhouses Doddridge, Ritchie (the defending state champion), Berkeley Springs, St, Marys, Wheeling Central Catholic, Gilmer and some others.
"I was proud of all our kids," said Calhoun coach Melinda Fitzwater. "This (not finishing last) is the best we've done in I don't know how long."
Freshman Anna Sampson led the way for the Red Devils with a time 24:53, which was good for 34th place in the field that included more than 80 runners.
She was backed by junior Grace Keaffaber with a time of 27:00, which was good for 48th; freshman Elizabeth Duskey with a time of 27.55 (53rd); freshman Maria Kisner with a time of 29:06 (59th) and senior Teresa Little at 32:16 (69th). This was the first high school meet for the three freshmen and the first meet ever for Little.
Calhoun had two boys compete at the high school level with junior David Lee posting a time of 23:47, which included a blazing finishing kick which brought him past two other runners, and freshman Dustin Simmons, who had a time of 28:32. It was the first varsity meet for Simmons.
In the middle school division Calhoun's two-man boys team finished strong with Steven Keaffaber posting a time of 12:23 for 28th place and Cai Clothier having a time of 13:23 for 35th place.
On the girls side Emily Brady had a time of 16:27.
The high school course is 3.2 miles while the middle school course is 2 miles.
Calhoun will return to action Tuesday with the SOCCR meet at the county park.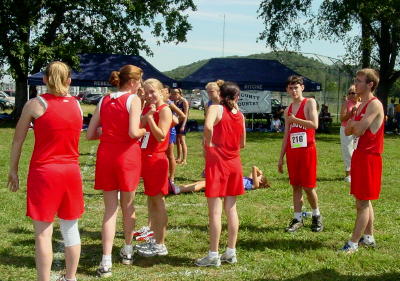 High School Boys and Girls warm up prior to their runs
Photos courtesy of Linda Simmons