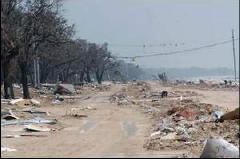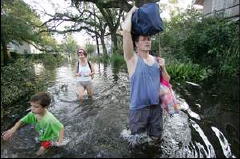 By Bob Weaver
Calhoun, one of West Virginia's poorest counties is reaching out to some of the south's poorest counties in their time of need.
County commissioner Rick Sampson said "We're just going to do this because it is the right thing to do."
Clerk Richard Kirby said "These victims no longer have a neighborhood to give a hand. We must now become their neighbors."
The Calhoun County Commission is leading a grass roots effort - OPERATION NEIGHBOR, to help the upper West Fork Community which was struck by a flash flood last Monday, but the focus will also be to help the victims of hurricane Katrina in Louisiana and Mississippi and other areas.
Several Wirt County groups have indicated they will join Calhouners in the relief effort.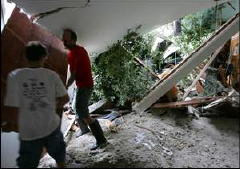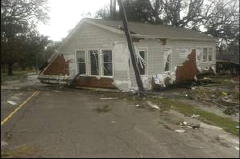 "The suffering, loss and death being experienced by our southern neighbors, hopefully will become a cause that touches not only the hearts of Calhoun citizens, but all people of conscience across America," said commissioner president Larry McCallister.
The commission is passing a resolution Tuesday to make the mission possible.
It is a direct-help effort, with food items to be collected in Grantsville and Arnoldsburg and delivered to a church in Hattiesburg, Mississippi, already involved in relief work.
U-Hauls will leave Calhoun at 9 p.m. Wednesday, September 7 with canned and dried food items only, and a check to the organization that will provide direct help to victims.
Canned food and dried non-perishable food items and individual size bottled water can be dropped-off at the Grantsville Volunteer Fire Department and the Arnoldsburg Volunteer Fire Department on Tuesday and Wednesday, September 6 and 7 from 9 a.m. until 7 p.m.
The commission, after reviewing flood damage in the Chloe and Minnora area, will be making a cash contribution to help replace appliances at the Upper West Fork Park and to allow the park committee to help residents that still have problems.
"If there continues to be serious needs within families in our community, we will try to address those personal needs," said McCallister. The commission is asking county churches to support these efforts.
Cash contributions can be hand-delivered to the office of Richard Kirby, Calhoun County Clerk in the Calhoun courthouse. Receipts will be given.
Donations can be mailed to Operation Neighbor, P. O. Box 239, Grantsville, 26147. Checks should be made to Calhoun County Commission. The contributions will be made part of the annual county audit.
The commission will be passing this resolution:
"We, the Calhoun County Commission, representing the people of Calhoun County, West Virginia, hereby recognize the overwhelming pain, death and destruction of our fellow Americans in Louisiana, Mississippi and the south, and see a clear need as their neighbors to reach out to them in their time of need."
"We also see a need to reach out to people in the upper West Fork region of Calhoun County who have experienced a flash flood."
"The Calhoun Commission will be directing the relief effort, including the contributing of taxpayer resources to this effort and see it gets done."
Larry McCallister, president
Rick Sampson, commissioner
Bob Weaver, commissioner
Information regarding the relief effort, call Richard Kirby 354-6725 (or)354-6638; Bob Weaver 354-6183; Rick Sampson 354-6307; Larry McCallister 354-6894.