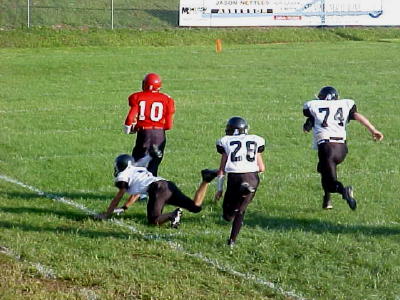 Zach Moore #10 runs for first TD of the season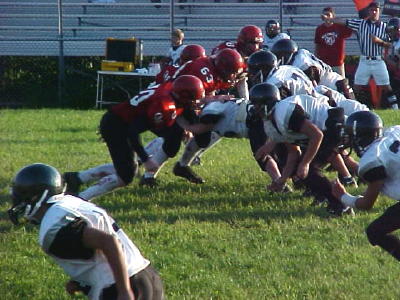 Calhoun Middle School, which has a near record number of players,
has been widely supported by parents and their own booster club ...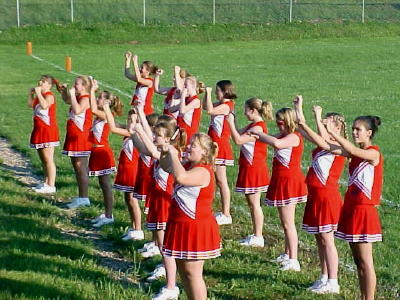 ... and a cadre of cheerleaders
By Roger Propst
The Calhoun Middle School Football team opened its season at Red Devil Stadium Thursday night by shutting out the Bulldogs of Doddridge Middle School 20-0.
The Red Devils kicked off to the Bulldogs to open the game, and the Bulldogs returned the kick to the Red Devil 34 yard line before being chased down by Zach Moore.
The Bulldogs marched the ball for two 1st downs before fumbling the ball away at the CMS 7 yard line with Drew Williams recovering for the Red Devils.
The Red Devils needed only two plays to go the 93 yards for the score; Brandon Reed raced 21 yards to the 28 yard line, followed by an 82 yard run around the left side by quarterback, Zach Moore for the season's first touchdown.
The try from scrimmage for the two-point conversion came up short, and the score stood at Calhoun 6, Doddridge 0. The kickoff was returned by the Bulldogs to their 27 yard line, where the offense could not muster a 1st down and punted to end the 1st quarter.
The 2nd quarter began with Calhoun driving the ball on the ground with Brandon Reed shouldering most of the load down to the Bulldog 15 yard line.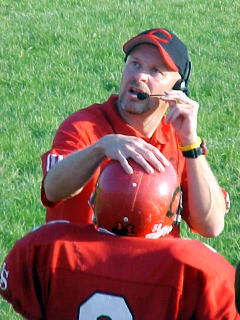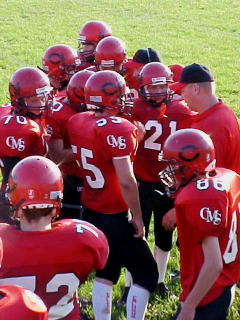 CMS coach Tim Moore (left) pats player on the head
Randy Fluharty carried eight yards to the seven yard line, and Ben Laughlin covered the final seven yards over the right side for the touchdown.
Zach Moore scored on a quarterback keeper for the two-point conversion to run the score to Calhoun 14, Doddridge 0, ending the first half.
Calhoun received the 2nd half kickoff, but stalled on offense and punted to the Bulldog 38 yard line.
The Bulldogs fumbled on their second play with Caleb Robinson recovering for the Red Devils on the Doddridge 34. Once again the Red Devils offense would stall, and the Bulldogs took over on downs at their own 20.
Two carries netted the Bulldogs their 3rd and final 1st down of the evening as the 3rd quarter ended.
The Bulldogs punted to the Red Devils at the 50 yard line. After a loss to the 49, Zach Moore ran 21 yards to the 30; and 30 yards to pay dirt on the next play to run the score to 20-0.
The extra point failed. The game ended without further scoring as the Red Devils substituted freely.
The team will face Spencer Middle at Mt. Zion next Thursday at 6 p.m.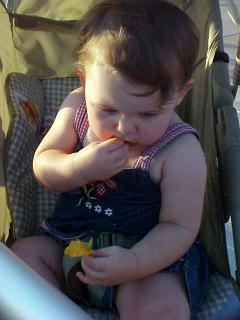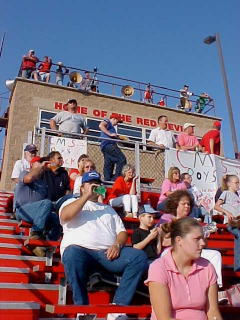 This young fan (left) is enjoying football snacks
while the rest of the crowd stuffed on those famous hot dogs