By Dianne Weaver

State school officials have launched a criminal investigation into the actions of three Mingo County school board members who have opposed the closing of their community schools.

Officials are claiming the board members have acted illegally, by meeting in secret.

Linda Martin of Challenge WV, who consulted with the three board members, said they never have met in secret.

Martin said state officials and wealthy Mingo County residents who will benefit financially from the consolidation plan are harassing the board members and Jim Lees, their attorney.

She says the high school closings are part of an economic development plan in southern West Virginia, associated with the building of the King Coal Highway.

"If you think it is about the education of our children, think again," said Martin. "Is there no end to where these people will go to have their way?"

A coal company says it wants to donate the stripped land for the proposed school near Red Jacket, but a deed has yet to be delivered.

The site is ten miles from the nearest highway, but is near the yet to be built King Coal Highway, which will dramatically increase the value of all adjacent land.

The Mingo board members have refused to endorse the state's plan to build the mega-million dollar consolidated high school, favoring instead community-based schools.

Charleston Attorney Jim Lees, who filed a civil suit against the State Board of Education and their School Building Authority, says the recent criminal investigation requested by school officials to the West Virginia State Police is "pure harassment."

"It's outrageous for the state school board to be getting the State Police to conduct a criminal investigation of people they're in litigation with," Lees said.

"I was furious," he said. "It irritates the hell out of me. We bring a lawsuit, and we get investigated. It's like Nixon revisited."

State schools Superintendent Steve Paine said Department of Education investigator John Morrison, a former state policeman, issued a complaint about the three Mingo board members — Bill Duty, Mitchell Chapman and Mike Carter, to the State Police.

The complaint was filed by Mingo school board member Dr. James Endicott, who supports the closing of community schools. He and others have filed a separate suit against the three board members to force them to consolidate.

Paine said "There was a complaint about an open meetings violation," regarding the three board members and attorney Lees.

Thomas Ramey, Challenge WV fellow, said "If any group ought to the challenged about the violation of open meetings laws, it is the State Board of Education."

Lincoln County's closure hearings were declared illegal, "Even the meetings where they hired their new superintendent were illegal," he said.

"These are wrecker-ball tactics" said Ramey, "Bureaucrats who use their political and intellectual arrogance to run over elected officials and our communities with cock-sure power."

"They have become incapable of knowing what is best for our children and our communities," he said.

The state agency itself has been riddled with corruption, from the former State Superintendent going to prison for stealing money to another former superintendent directing the purchase of school computers to his girlfriend.

Beside the continuing scandal of former House Education Chairman Jerry Mezzatesta, Asst. State Superintendent G.A. McClung was just sentenced to seven years in prison for extortion and filing false income tax returns.

"The list is long," said Martin.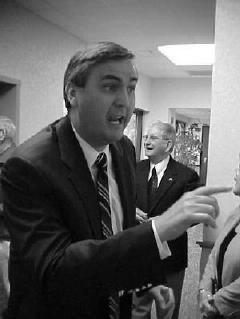 Dr. James Endicott (pictured left) Mingo board member Dee Kapourales, former state school board President Howard Persinger and coal operator James "Buck" Harless filed a suit against Duty, Chapman and Carter, asking a judge to order the board members to close Williamson, Matewan and Burch high schools.
Endicott filed an ethics complaint against fellow board member Mike Carter, alleging Carter broke state law when he voted against closing a school where his wife worked. The Ethics Commission dismissed the complaint, but the charge caused Carter to spend $16,000 out-of-pocket to defend himself.
Martin said "Lets have an ethical outcry over Dave Stewart," who just retired as state superintendent and went to work for an architectural firm to which his agency awarded mega-buck contracts for consolidated schools.