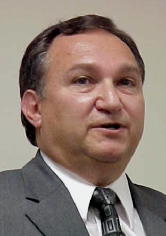 Newly hired Arnoldsburg School principal Dr. Gene Rizzo has resigned, according to Calhoun Superintendent of Schools Ron Blankenship. Blankenship said he is posting the job today.

Dr. Rizzo became embroiled in controversy after some Arnoldsburg parents surfed the Internet and discovered the educator had personal problems with two school secretaries and had spent 30 days in jail after entering one of the women's dwellings.

A group of protesting parents felt the award-winning educator would be an unsuitable principal because of his anger management problems.

Superintendent Blankenship told the protesters there was no evidence Rizzo's personal problems interfered with his professional life.

They started petitions, held rallies and threatened to boycott the school if Rizzo remained.

Rizzo, after answering questions from parents following a school board meeting, appeared at a second meeting at Arnoldsburg conducted by a group of people opposed to his hiring.

After several verbal attacks and a threat he left the meeting.

Protesters did not appear on the opening day of school last Friday. Rizzo was not present at the school, with Blankenship having him report to the central office to defuse the problem.

It was not confirmed if a group of protesters went to Charleston last Thursday to protest Rizzo's hiring.

See earlier Herald stories.