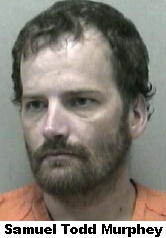 Clay County Sheriff Randy Holcomb has confirmed that Clay resident Samuel Todd Murphy, 37 (left) was issued federal charges for manufacturing an explosive device[s] last Friday.

The devices, described as several individual bombs, were reportedly meant to kill Sheriff Holcomb.

Holcomb reportedly received an anonymous "tip" on August 4th from an Amma, Roane County gas station, suggesting he check out a certain object at a certain location.

He apparently did not read the message until August 8th, the day after Clay resident Ronnie Hamm stumbled on a box containing a number of bombs, detonating some of them and injuring himself.

The box of home made bombs reportedly contained nuts, screws and nails designed to mutilate or kill the person who opened it.

Murphy had been in Central Regional Jail for the shooting of Thomas Holcomb, but had been released on probation.

Murphy came for a drug screen, a urine test, when he allegedly stuffed a "whiz master" in his pants, containing clean urine.

A Clay sheriff's deputy discovered Murphy's attempt to pass the drug screen, and he was returned to Central Regional Jail.

Murphy's alleged participation in the bomb making came to light yesterday during a hearing, where his attorney was attempting to have him placed in a drug treatment center.

Such placement would have released Murphy from jail.

It was then that prosecutor Jim Samples made public the federal charges against Murphy, related to the bombing episode.

Sources indicate additional subjects could be charged.