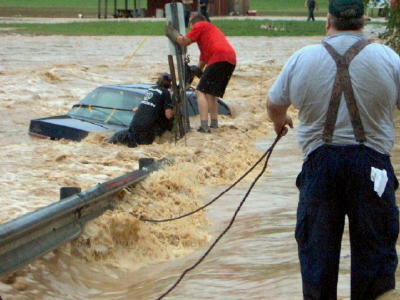 Rescue efforts start along Oka Road
after driver and car wash away in swift water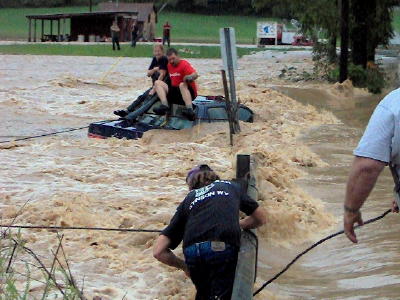 Kay Izzi is brought to top of her vehicle, her dog was rescued later
(Photos by Jeff Jarvis and Gale Gregory of Chloe)
By Bob Weaver
The highest flood water in recent years was reported in southern Calhoun yesterday evening following a National Weather Service advisory which called for a flash flood warning for the area.
Heavy rainfall in the Big Otter, Nebo, Stinson, Walker, Walnut and Nicut areas and other tributaries along Rt. 16 caused severe local flooding and a major rise in the West Fork of the Little Kanawha.
A Mud Fork resident reported at least 4" of rainfall in a short period of time yesterday afternoon.
Although the large volume of water was flooding areas in Washington District, the water was slowing coming down the West Fork to Arnoldsburg, where water was covering the roadway at the intersection of US 33-119/Rt. 16 at midnight.
Members of the Arnoldsburg VFD were on standby with their rescue boat and other equipment.
Kay Izzi of White Oak was rescued from her automobile after it was swept from Oka Road by the swift water. Several neighbors and members of the Upper West Fork VFD pulled the woman from the auto and later rescued her dog. She was uninjured, "resting at home with her dog."
Water may have been at a record high in the Upper West Fork fire station and was reported to be window-high in the local community building.
Firemen had moved their equipment to higher ground, and were able to respond to several assistance calls, although much of State Route 16 was blocked.
Heavy damage was reported to houses, businesses and automobiles along the swollen creeks, including damage to Stinson Grocery. At least one building floated away on Walker Creek.
About 9:30 p.m. there were reports of a floating car and truck along Rt. 16 near the Chloe Post Office. Chloe resident Earlene Thomas said the flooding at Chloe was the "worst in at least 20 years."
Mt. Zion resident Patty Wilmoth was following a large truck through the water at Chloe, when her vehicle began to float away. She had to be rescued from the auto, and was spending the night with the Thomas family.
Flooding was reported in the Cedar Creek-Steer Creek area of Gilmer County.
Individuals who have experienced damage during the flood should call Calhoun Control at 354-9271 and made an initial report.
Rain is still in the forecast, with the residual from the hurricane expected to sweep through Ohio and a small section of WV later today.