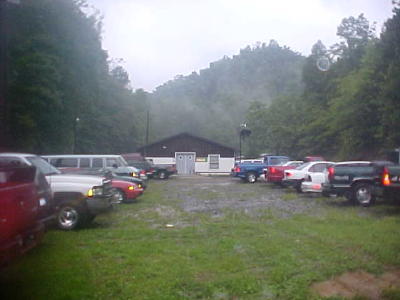 Fog settles on the Bear Fork Trading Post Saturday night, where
people flock from far and wide to enjoy the Saturday night show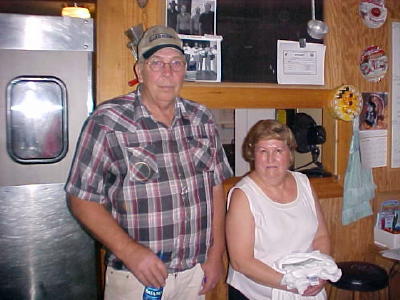 Melvin and Patty Cottrell have renovated the Trapper's Inn building
from top to bottom on Bear Fork, which now includes food service
The project has been a dream for Melvin and Patty Cottrell, a comfortable and cozy place where folks can come and enjoy an evening of some of the best bluegrass, country and gospel music around.
Where else would be more fitting for mountain music than Bear Fork, along U. S. 33-119 near the Gilmer County line. Bear Fork is still a well-known wilderness area, steeped in history dating back to the early 1800s. (See Tales of Bear Fork under People, Humor and History)
The Bear Fork Trading Post has been filling to the brim with folks who enjoy the venue, plus the fact the Post's kitchen is turning out some fine country food.
The $5 admission fee allows customers to get a comfortable seat, up front or in back, or there are tables and chairs available, no alcohol is served.
"We've already had some great performers, like tonight's band from Virginia," said Melvin Cottrell. "The crowds have been great and they're getting bigger and bigger as cooler weather comes on."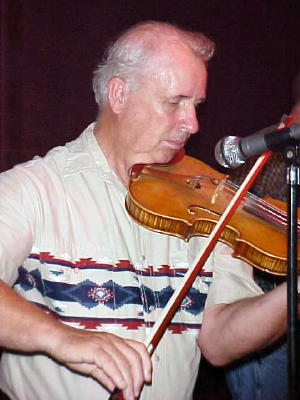 Darrell McCumbers fiddles some famous old tunes
< Former Calhoun musician Darrell McCumbers, one of the McCumber's brothers, returned to the county to fiddle a few tunes Saturday night. His brother's, Buck and Dare McCumbers tagged along, the whole McCumbers bunch attended a family reunion at Cedar Creek State Park earlier in the day.
The McCumbers name is synonymous with bluegrass and old-time mountain music. (See Herald stories)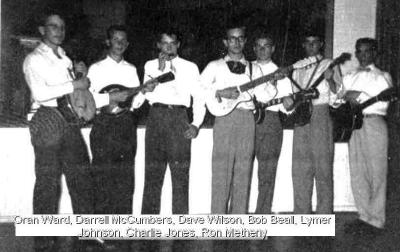 Photo courtesy of Bob and Ruth Beall
It was sort of a reunion night with Darrell McCumbers (Class of 1958), with Bob Beall and his wife Ruth Wilson Beall, in the audience. Bob and Ruth's brother, David Wilson, played in a string band with McCumbers in the 1950s at Calhoun County High School, performing at FFA contests and local events. All of the group members went on to play music professionally or for fun.
The Bear Fork Trading Post is a welcome addition to the community, and offers a pleasant "night out" for music fans, who may also want to enjoy the Post's menu.
The Post has been remodeled and fixed for comfort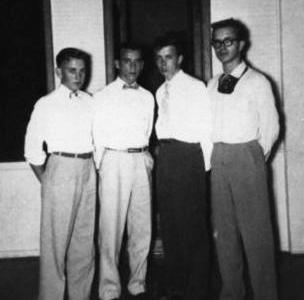 Musicians David Wilson and Bob Beall (far right)
join a couple of musical friends in 1956
Photo courtesy of Bob and Ruth Beall
SEPTEMBER SCHEDULE
September 3 - The Vaughan's at 7 p.m.
September 10 - Gospel Music Evening: The McBrides beginning at 7 p.m.
September 17 - Norfolk and Southern Bluegrass Band at 7 p.m.
September 24 - New Ground Bluegrass at 7 p.m.
Clogging classes are being planned for September on Tuesday evenings.