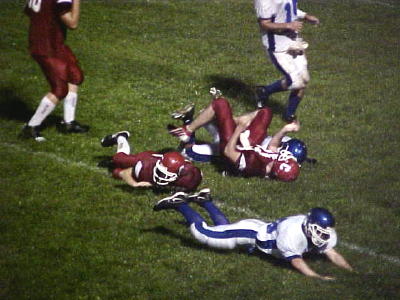 The Red Devils crossed the magic line lots of times last night ...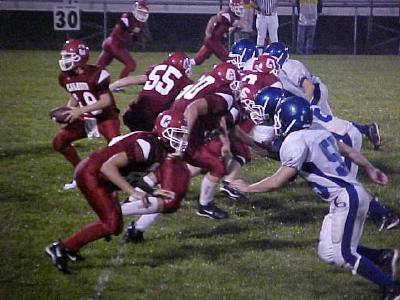 ... running up a lopsided score against Gilmer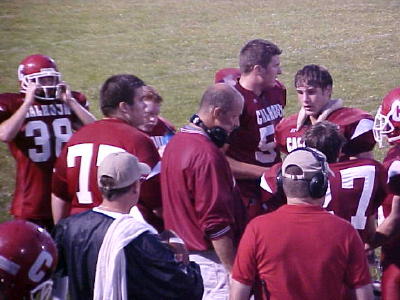 Coach Stern gives encouraging words to his team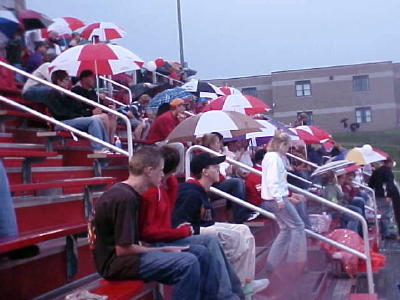 But it was the battle of the umbrellas that got a lot of attention ...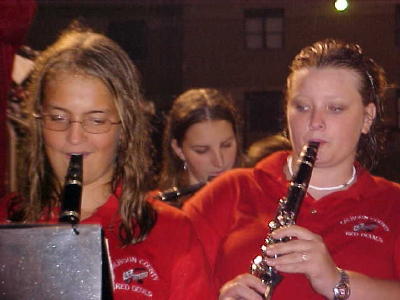 ... with band members giving it their all in a downpour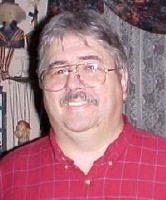 By Gaylen Duskey
Steven Cunningham took the opening kickoff back 77 yards for a touchdown. On the ensuing kickoff he came across the field to haul down Gilmer's return man at about the Calhoun 20 yard line.
In those two plays Cunningham essentially won the game for the Red Devils since his touchdown would have been enough points for victory since Calhoun hammered the Titans by a 56-0 count in the season opener.
But that wasn't all the senior tight end did.
He had another touchdown on a 42-yard pass from Matt Houchin. It was one of four passes he caught for 123 yards. Along with that his defensive work was, well, he caught as many passes as the entire Gilmer County team did when he picked off a Titans' aerial in the first quarter.
But Cunningham was not alone in his heroics.
Paul Goodrich, for instance, on four of his nine carries. He had scoring runs of 42, 26, 22 and five yards as he amassed 144 yards on the ground despite playing only two and a half quarters.
And Goodrich was not alone in gaining 100 yards as Chad Conley carried the ball 14 times for 132 yards.
More?
Red Devil reserves Eddie Burrows and Roman Rader also had impressive numbers with Burrows gaining 81 yards on nine carries while adding a touchdown while Rader added 57 yards on five attempts.
More?
The Red Devils scored through the air too as Jeff Goodrich teamed up with Houchin for a 15-yard score. Overall Houchin hit on eight of 10 passes for 173 yards and two scores. He was not intercepted.
The same can't be said for the Titans. Gilmer quarterbacks threw 14 passes. One was caught for two yards and another was intercepted. The rest fell harmlessly to the ground.
The Red Devils' defense also stopped Gilmer's ground game holding it to 78 yards. Overall Gilmer County's offense managed 80 total yards and six first downs - two of which came via Calhoun penalties.
Oh, by the way, the Red Devils also added a safety as the punter was trapped in the end zone on a bad snap on a punt attempt.
How did Gilmer's freshman-laden defense do?
Calhoun had 575 yards total offense, including 402 rushing. The Red Devils also had 26 first downs.
All those numbers, as impressive as they are, really don't provide much of an answer about how good the Red Devils are this year.
Sure, they are 56 points better than Gilmer (and that was with the Red Devils calling off the dogs in the third quarter) but this is a Gilmer team that has 11 freshmen and starts many of them.
So the question "how good are the Red Devils?" remains unanswered.
The Red Devils did have one big area of concern - penalties. Overall Calhoun was flagged 13 times for 120 yards, numbers you can get away with against a young team like Gilmer but numbers that could be fatal down the road.
Calhoun, now 1-0 on the 2005 season, travels to Ritchie County to play the Rebels. Ritchie is 0-1 after suffering a 54-0 season-opening loss to St. Marys.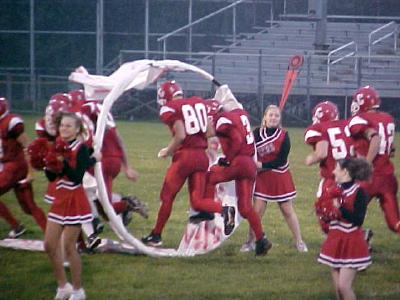 Red Devils crash through opening night ring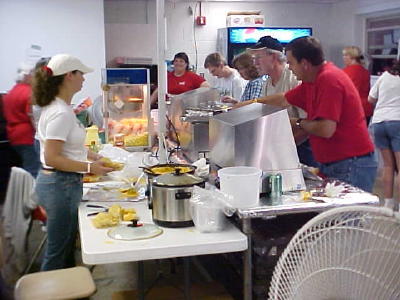 Boosters dish out hundreds of those famous hot dogs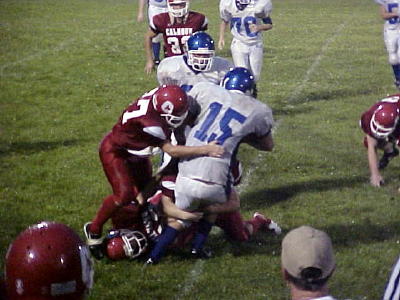 Entire game was played in soaking rain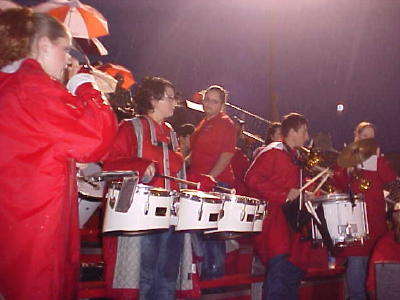 Red Devil band performs ...