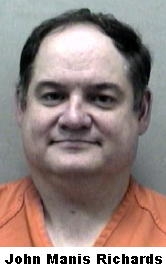 Forty-one-year-old John Manis Richards, who was recently arrested on drug charges related to the production of methamphetamine, may have been instrumental in having a video tape mailed to the Hur Herald and possibly other news outlets.

The Associated Press reported last week there is a video tape with Richards demonstrating a meth cook, but State Police in Grantsville have not issued a statement locally about such a tape.

The tape received by the Herald portrays Richards as a warrior against harmful drugs and also contains surveillance footage of alleged drug dealing shot in 2003 and more recent footage shot in Grantsville, all after dark.

"I figure, I've stopped probably $200,000 worth of meth from hitting the streets in Grantsville, Calhoun and Gilmer counties," he proclaims on the tape.

"I've single handedly stopped the production of a lot of meth from being sold in the area, and I'm proud of it," Richards says. "I'm not into turning friends or buddies in for making this stuff, but I'm stopping them from producing it - I'm ruining their batches so they can't sell it."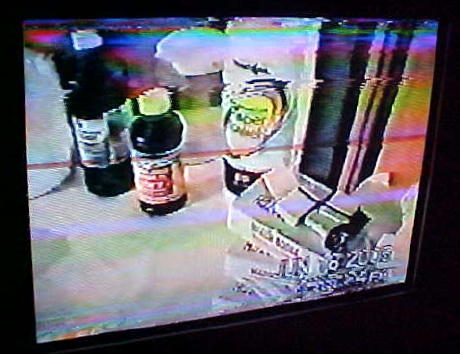 Video scans items used in the production of meth, while
voice-over explains how his method causes a "flopped batch"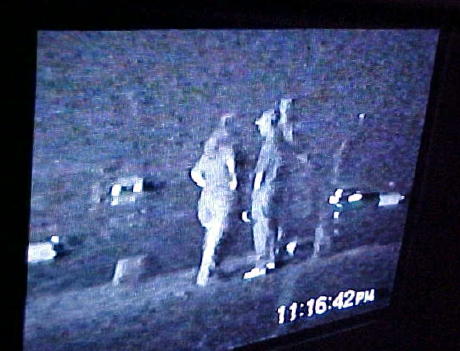 After-dark surveillance tape outside Susie's Bar in Lockney suggests drug transactions
The videographer, apparently Richards, begins the tape with saying, "OK, we're here to view some items used in the production of meth."
"We use these to show renters of property belonging to my father, neighbors or other renters, that if they see these materials to notify myself, my father or the sheriff's department."
The video shows a table display of gallon jars, laboratory beakers, plastic tubing, boxes of match books, coffee filters, paper towels, acetone, iodine, peroxide, etc., materials used in the manufacture of meth.
A gallon jar has a hardened, white, powder-like substance, which the videographer refers to as "no good," and "fake pill dust," the waste product from "used pills," alleged to be previously used in meth production.
Richards says he "acquired" the substance from someone else. He goes on to explain if the substance is crushed "it looks just like the finished product needed to produce meth," and that he uses this and other "bad material" to trade to meth producers for their "good material."
He then proclaims that he destroys the displayed "good material" or sabotages it, so that it will cause a meth producer to "flop a batch."
He explains that he often mixes household bleach with the peroxide, iodine, acetone, etc. rendering it unfit to produce a good batch of meth, or sprays it on coffee filters, or pours it into the plastic tubing.
The video camera pans back and forth filming the ingredients, which are resting on a table.
Some of the ingredients are reportedly being used in the state's drug case against Richards, being found at his south Grantsville residence using a search warrant.
"This messes their batch up, called 'flopping a batch' - I've been providing them with a lot of bad material - trade them stuff they thought was psuedophedrin but wasn't, and I'd get their good material, to keep them from producing more," indicating he (Richards) is helping protect the community from the illegal substance.
"I never provided any material that would help them, only bad material," he says.
After explaining more about the various materials displayed, he goes on to say, "This stuff is bad to have, you don't want to get caught with it, but I'm running that risk now for the simple reason that I don't see our law enforcement doing anything about it."
The videographer says match books can be purchased from the West Fork area by the case and shows laboratory beakers, he has acquired from producers, allegedly purchased at Smokin' Joe's in Parkersburg valued at $80-$100 each.
"I hang out with friends that have [inaudible] the meth labs, and there are numerous, numerous labs in the county, and the town of Grantsville actually." He goes into detail listing the ingredients, materials and the procedure needed to produce meth.
Following his talk about drugs, the tape switches to several scenes of what appears to be individuals, some known to the community, apparently alleging the selling and using of illegal drugs.
There is extensive after-dark scenes in front of Susie's bar at Lockney (aka Good Time Charlies), the tape apparently shot from a hiding place across US 33-119.
The "undercover" camera operator appears to be on their stomach, filming what appears to be a drug transaction in Glenville.
There is a scene of late-night roaming around Grantsville streets, the tape showing certain houses and buildings, including rummaging in a vacant garage.
There was no explanation why Richards is involved in hidden camera drug surveillance, other than to present himself in a favorable light as an anti-drug crusader.
Richards was released from Central Regional Jail last week after his father, Lee Richards, posted a $60,000 cash bond.
His freedom was short-lived, being returned to jail for the violation of an earlier bond, related to another case against him.
See earlier Herald stories on Richards