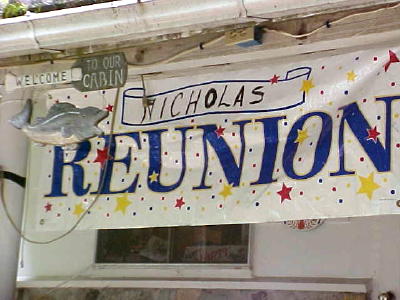 The Nicholas' have their annual reunion ...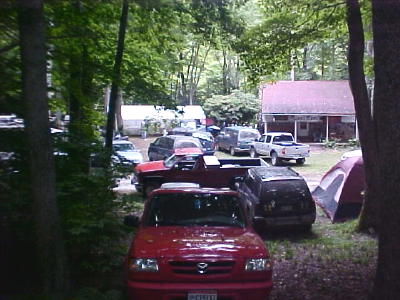 ... with campers and tents crowding around
the camp along Middle Fork River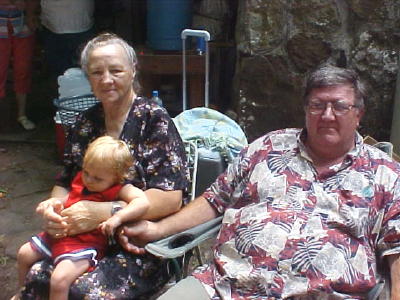 John and Nella Jean Nicholas Yancey of Calhoun enjoy the afternoon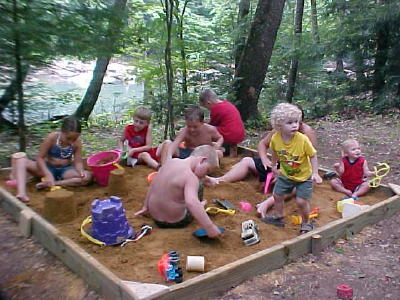 The kids moved sand and made castles ...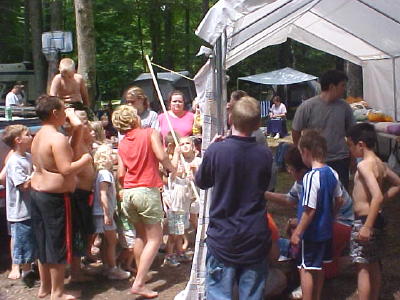 ... and fished for valuable prizes
They came from far and wide to the Middle Fork River camp of Dallas and Carlene Nicholas Frederick. About 150 folks brought campers or pitched tents for the annual Nicholas Reunion this past weekend.
They are descendent's of Robert and Arizona Leary Nicholas and Robert and Jamina Schoolcraft Nicholas, settlers on Bear Run, Calhoun County.
The Nicholas' are among the county's first settlers.
In Calhoun's 1860 census, a 79-year-old Phillip Starcher, the man who is often credited with being among the first permanent settlers in the county, is living with Solomon Nicholas in Washington District, likely on Bear Run.
The reunion had a little bit of everything for a family get-together, from a barbecue pit, craft tables, and swimming to horseshoes, sand boxes and a "fishing pond" for the kids.
Then there is the reunion food and all that "communicating," along the beautiful river at the edge of Upshur and Randolph counties.