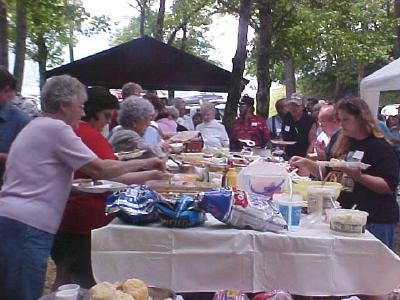 A larger than usual crowd attends Whytsell Reunion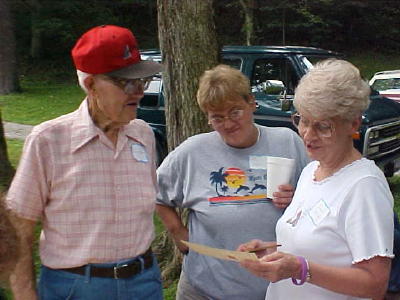 Randall Whytsell greets and shares history, here with Helen Johnson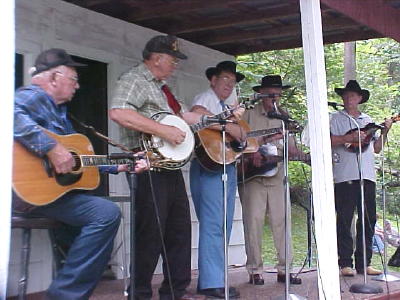 Lots of mountain music makers grace the stage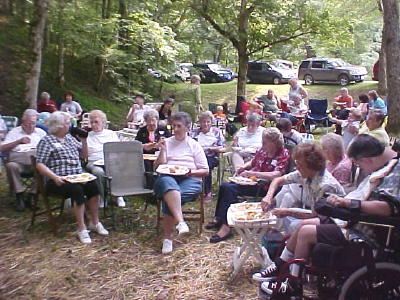 The long tables provided some of the best country food around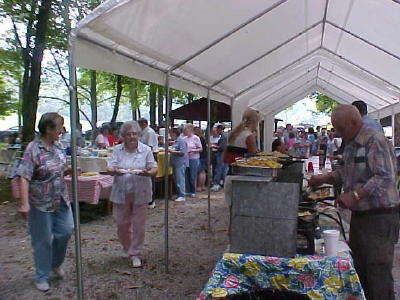 Duck and Jim deliver the fried fish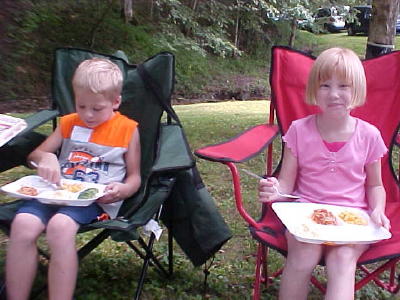 The young'ins enjoyed the Sunday afternoon
The Whytsell Reunion was held yesterday in a wooded grove near the West Fork of the Little Kanawha, between the long-gone villages of Rocksdale and Richardson.
It has always been a "Come on Down" reunion.
Randall Whytsell, with his late wife Blanche, energized the reunion for many years. Randall was in fine form yesterday, greeting old friends, having history chats and sharing photographs.
A larger than usual crowd graced the event, bringing their favorite covered dish to the food table. It is one of the county's biggest reunions, attended by folks from all over. In other words, you don't have to be a Whytsell.
Added to the eating experience, Jim Bell and Duck Stevens, carefully tended to the frying of the fish.
The picnic grove at the mouth of a hollow, known as Whytsell Park, is a great place for long reunion tables that have the finest country food spreads you'll ever experience.
Randall and some of the area's mountain music makers always deliver the Whytsell "Boy's" tune, "My West Fork Valley Home" and other country and gospel favorites.
Visitors brought their plastic jugs to fill with water from the free-flowing Hart spring, named for Civil War renegade Nancy Hart, whose family once lived on a nearby hill and sometimes across the West Fork near "Nancy's Dancing Rock."
The Whytsell's came from the Shenandoah Valley to Lewis and Braxton counties, settling in Calhoun during the Civil War, marrying into the Lynchs, Andersons and Starchers, among other early families.
Randall's dad and mom, Edwin and Rettie Starcher Whytsell, were fixtures on the lower West Fork of the Little Kanawha for much of the last century, their home established in 1922 above the Village of Richardson.
Now, Randall and his brothers, Woodrow and Gene, are still "people of place," along with Randall and Blanche's daughter, Peggy Whytsell Stemple, who with her husband Marvin, are keeping the event alive.
They've not gotten far from their roots.
Most all had memories yesterday of Blanche, who was absent by death two years running.
She was present in spirit, with thoughts of her hospitality and cooking - a taste of home.
Peggy Whytsell Stemple said she tries to keep up with those who have passed on from year to year, dozens and dozens of old-timers to be remembered.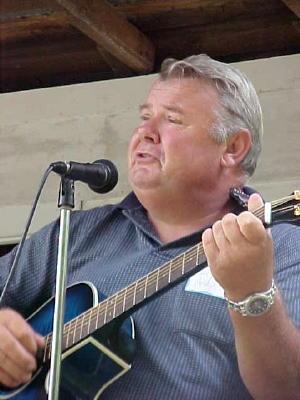 Larry Arthur's beautiful voice lifted from the hills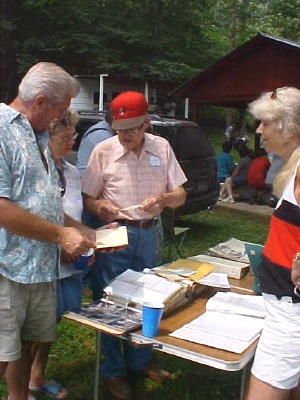 Folks enjoyed looking at pictures and documents at the "history table"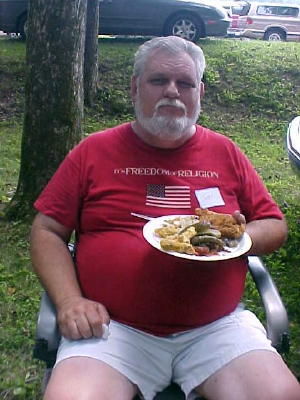 Jerry Riggs downs a "patriotic meal"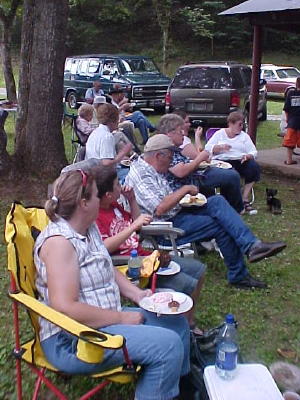 Others enjoyed the special dishes, prepared by the best home cooks around
See WHYTSELL reunions from the past by using SEARCH.