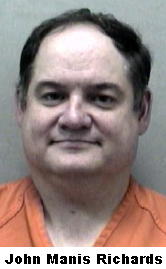 Working on an alleged meth lab in his basement landed a Grantsville man in Central Regional Jail last week, but John Manis Richards, 41, quickly bonded out on a $60,000 cash bond.

Now, Richards is back in Central Regional Jail after a day or so of freedom, reportedly after violating a bond from an earlier offense, which apparently required him to not commit any illegal acts.

The bench warrant was issued by Judge David Nibert.

The former charges are reportedly unresolved, and could be related to stealing incidents in Calhoun or Gilmer County.

Richards was arrested Tuesday after police searched his home and discovered several precursors used in the manufacturing of methamphetamine.

Reports say police confiscated ingredients for the making of meth, a small amount of meth and a video tape of Richards, who authorities say was demonstrating an actual meth cook.

One charge also relates to the presence of a minor child around the alleged manufacturing of meth.

Richards was charged with attempting to operate a clandestine meth lab.