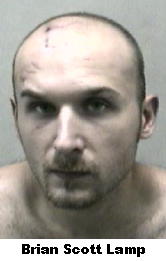 A man who turned combative following a truck accident at Mt. Zion in May has been charged with several counts in Calhoun Magistrate's Court.

Chief Deputy Ron Bandy has charged Brian Scott Lamp, 22 (pictured left), with assault, destruction of property and driving on suspended or revoked non-DUI.

Lamp, who became combative following the accident, threw punches at EMS personnel and volunteer firemen while they were trying to deliver care for trauma he experienced in the accident.

Lamp broke free from an ambulance cot several times, swinging at emergency workers and struck a fire truck with his fist when it arrived on the scene.

The blow dented the fire truck.

Deputy Bandy and emergency personnel negotiated with the man for nearly 35 minutes, before he could be restrained for transport.

He was taken to Minnie Hamilton Health Care Center and later transfered to Charleston Area Medical Center. His head had gone through the truck's windshield, suffering trauma.

Lamp was later arrested for obstructing an officer following another incident in Roane County, and is currently being held in Central Regional Jail.