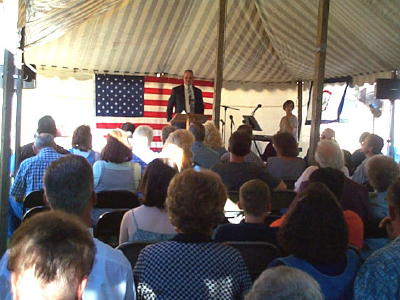 By Shari L. Johnson
Victory Baptist Church will be hosting their 5th Annual Tent meeting in Calhoun County, located on the grounds of Victory Baptist Church, Route 16 south of Grantsville.
The Meeting starts Monday August 1st and will continue through Friday at 7:00 p.m. nightly.
Seating will be provided for 100+ or bring your own lawn chair, and enjoy the antiquated atmosphere of an "Old Fashioned Revival".
Scheduled Preaching and Singing goes as follows:
Monday - Dr. Myron Guiler with special music by Bound for Heaven
Tuesday - Alfred Hickman, with special music by the Hickman's
Wednesday - John Watkins, with special music by the Victory Singers
Thursday - C.W. "Mac" McDonald with special music by Tommy Nutter
Friday - Mike Worf, with special music by the Maryetta Ambassdors
We encourage the community to join us for this grand event that will be sure to bless you.
For information or directions, phone 354-7780 or email talk2shari@lycos.com