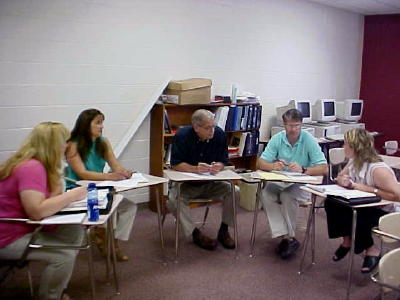 Calhoun Youth Advisory Council members discuss how to improve the Youth Advantage Program (L-R) Paige Toney, Youth Placement Specialist; Janet McCormick, CRI; Greg Cartwright, Youth Council Representative; Mike Offutt, Principal CM-HS and Chris Hupp, HRDF Supervisor
The Youth Advantage Program is a work program that helps Calhoun youth to improve their job skills. Participates are paid for community service projects, job shadowing and other ventures.
Locally, the program involves about 30 participants.
Currently, the program is focusing on youth 17-21 years old, including out-of-school participants.
The program is directed toward helping decide career choices, said Paige Toney. "We are really looking for some new out-of-school applicants," she said.
Toney can be reached at 354-7920.
Youth Advantage participants have also been involved in trips to colleges and schools and other special events.