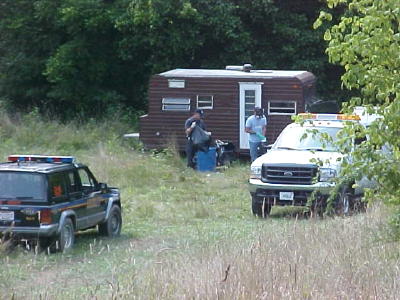 State Police clean-up alleged meth lab site near
Cremo in Calhoun County beside the West Fork River
Three drug arrests were made yesterday in Roane County after authorities stopped a truck near the Calhoun County line.
The vehicle was carrying materials for operating a clandestine drug lab, according to Roane County Sheriff Todd Cole.
The arrests led to a search warrant being issued in Grantsville for a camping trailer along the West Fork River near Cremo, a site allegedly being used for manufacturing meth.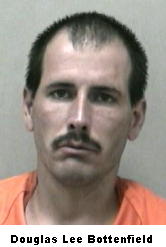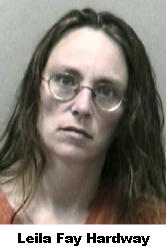 Roane authorities have filed charges against Jamie Burch, 23, of Millstone, Lelia Fay Hardway, 33, and Douglas Lee Bottenfield, 33, both of the Spencer area.
Burch was released on $25,000 bond. Hardway and Bottenfield were taken to Central Regional Jail.
State Police dispatched a decontamination unit to the Cremo site, where Rowels Run empties into the West Fork River, accompanied by Trooper 1st Class Jeff Hunt and Sheriff Carl Ballengee.
The two officers were on the case for at least 24 hours.
The Wood County Sheriff's Department notified Calhoun Sheriff Ballengee and Roane County authorities Thursday that Douglas Bottenfield had purchased seven boxes of nasal decongestants from Krogers in Belpre, Ohio.
They issued an identification of the vehicle after further purchases were reportedly made in south Parkersburg.
Bottenfield reportedly followed the proper procedures of the new anti-meth laws which requires registration.
Roane County Sheriff Todd Cole spotted the truck on U. S. 33-119 late Thursday night. The vehicle was traveling west from Calhoun near the county line when he made the stop.
Sheriff Cole said he observed a glass tube inside the truck used for smoking meth, although the driver, who he identified as Jamie Burch, attempted to hide the object.
When Bottenfield was exiting the passenger side of the truck, Roane deputy Knopp said "a glass flask wrapped in paper towels and tape fell out of the truck. There was also a milk jug with a two-layer liquid wrapped in tape on the floor."
Authorities said a plastic bag was recovered which they field tested for meth, indicating it was positive.
Sheriff Cole said Burch gave permission to search the truck, after which Chief Deputy Jeff Smith discovered almost a full case of matches, a full can of acetone, Coleman fuel, Red Devil lye, rock salt and other materials used to make meth.
Authorities indicated Burch was cooperative, signed his Miranda Rights and agreed to make a statement and answer questions.
Burch said he, Bottenfield and Lelia Hardway went to Parkersburg to purchase decongestants, indicating 8-10 boxes had been purchased.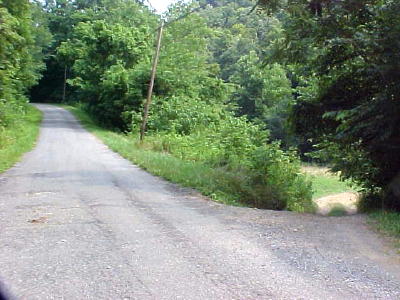 Alleged meth lab camper was located in a grassy bottom where Rowels Run empties into the West Fork River, a short distance from this turn-off (right) on Rowels Run Road near Cremo
According to a police statement, Burch said there was an attempt to manufacture meth in Calhoun near Cremo, but the items were loaded up for transport to Douglas Bottenfield's residence in Roane.
Bottenfield had previous arrests, along with Hardway.
Authorities stopped Hardway earlier this year and discovered meth lab ingredients, which they took to the Spencer State Police Detachment.
While unloading, the ingredients ignited, causing fire damage to an area of the barracks.