Murder trial halted by plea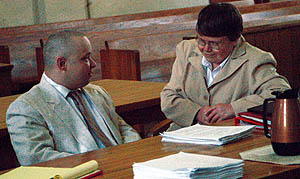 Accused murderer Roger Eric Jones consults with public defender
Teresa Monk before entering into a plea agreement Tuesday
(Photo by Sidney Boggs)
By David Hedges Publisher
Times Record-Roane County Reporter
A suspect accused of murdering a Roane County man and setting his trailer on fire entered into a plea agreement Tuesday in Ripley.
Jury selection began Tuesday in the trial of Roger Eric Jones, 33, of Chloe, who was charged with the December 2002 slaying of John Morehead. The victim's body was found inside his mobile home on Arnoldsburg Road.
The trial was moved to Jackson County. Jury selection was slated to resume Wednesday but was cut short when Jones agreed to enter a plea.
In the agreement Jones was to plead no contest to 2nd degree murder, which carries a possible sentence of 15-to-40 years, and three other felony charges including assault on the elderly, assault during the commission of a felony and burglary.
Jones, represented by public defender Teresa Monk, is already serving life without parole for another murder that occurred about a week after Morehead's death. In that case the body of Oral "Sam" Jett was found outside his car along a remote road near Amma ... Rest Of The Story ... www.thetimesrecord.net