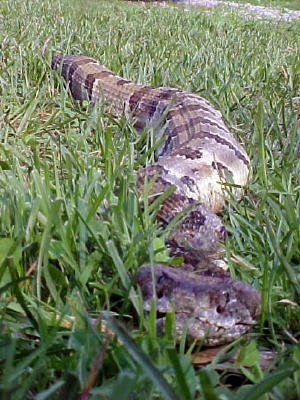 Look deeply into those beady eyes ...
Barbara Johnson of Sand Ridge said she thought the family dog was barking at a gas leak yesterday near her front porch. "I woke up my husband, Arthur, from his nap to check it out," she said.
The gas leak sound turned out to be the rattle of a 46" rattlesnake, a few feet from her porch step. The snake, which had coiled, was upset with the barking dog.
Johnson shot the snake with a .22 rifle.
It certainly is not as big as the doctored photo recently circulating on the net and in newspapers, but it's a pretty good size rattler.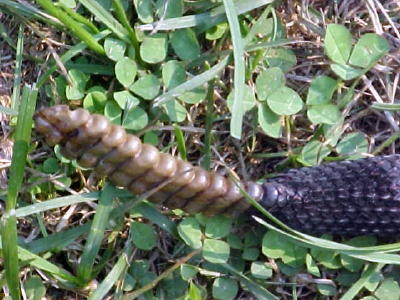 The rattler had 12 buttons for its warning system
"You just wonder if there is another one around," he said, saying this is the first rattlesnake he has seen at his house since he moved to the dwelling 16 years ago.
Johnson's house is at the end of a lane off U. S. 33-119 near the top of Bear Fork Hill.
"The edge of the Bear Fork wilderness is about a quarter mile away," said Johnson, noting that the backwoods area has long been known for rattlesnakes.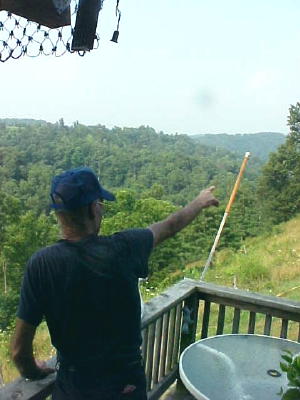 Johnson points toward Bear Fork woods,
which has a long history of rattlers