Article and photo submitted by Patty Haught

The Marching Carousels under the instruction of Patty Haught and Angie Arnold participated in the 2001 WV State Drum Majorettes of America Competition on Saturday, June 2, 2001 at the Calhoun County High School.

The Corp competed in 3 age divisions in the Dance-Twirl event. Each age division won 1st place State titles.

Participating in the Tiny tot division of the Marching Carousels are: Shayla Arnold, Chloey Boggs, Bailie Cain, Autumn Jones and Kenedee Taylor. The Tot division consists of: Shayla Arnold, Katelyn Bunch, Ashley Houchin, MaKenzie Laughlin and Samantha Yoak. The Juvenile division is made up of: Kelsey Collins, Sarah Moore, Lauren Patrick, Krista Reichard, Kayla Roberts and Casey Westfall.

By winning the WV State title the Corp is now eligible to compete in the National Competition in North Carolina in July.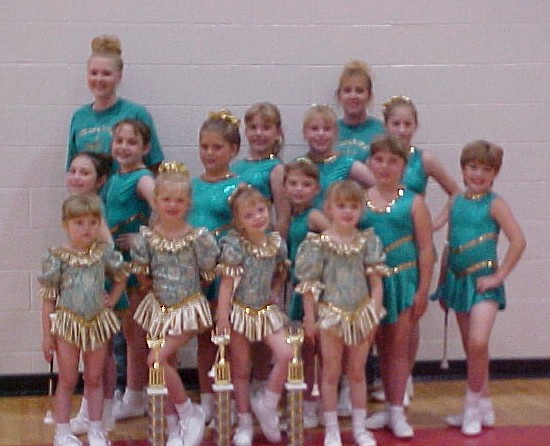 Left to Right 1st row- Autumn Jones, Bailie Cain, Chloey Boggs, Shayla Arnold 2nd row-Sarah Moore, Ashley Houchin, Katelyn Bunch, Samantha Yoak, MaKenzie Laughlin 3rd row-Krista Reichard, Kayla Roberts, Kelsey Collins, Casey Westfall 4th row- Instructors, Angie Arnold and Patty Haught not pictured Kenedee Taylor and Lauren Patrick