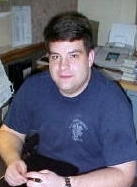 Calhoun's emergency ambulance service has received a superior rating in a license review conducted by WV Emergency Medical Services.

"This may be the best rating Calhoun EMS has ever received," said director Josh Johnson. The county-wide service was given 130 out of 136 possible points - equal to 95%.

The audit covered eleven levels of service:

- Medical accountability 22 out of 22
- Communications 11 out of 11
- Community education 4 out of 4
- Disaster capability 8 out of 9

- Level of service 10 out of 15

- Response time performance 6 out of 6
- Personnel 15 out of 15
- Training 16 out of 16
- Financial 15 out of 15
- Facilities and equipment 15 out of 15
- Accountability and stability 8 out of 8

Johnson said the local service is obtaining financial help to purchase a much needed ambulance, with most of the squad's vehicles having very high mileage. "We haven't got all the details about the funding yet, but we are hopeful," he said.

"We appreciate our EMS personnel and the community for the support they have given us," Johnson said. "We hope to keep the standard high."