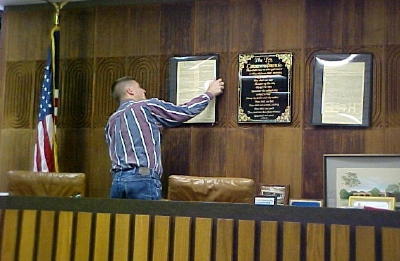 Former Clay County Commissioner Bragg
inspects Commandments at Clay Courthouse
The Director of the West Virginia Chapter of the American Civil Liberties Union is calling on the Clay County Commission to abide by a ruling from the United States Supreme Court.
The Court ruled 5-4 yesterday that a Kentucky courthouse must pull down the Ten Commandments it has displayed in their building.
Andrew Schneider with the American Civil Liberties Union says it's ruling that Clay County should follow.
Clay County commissioner Jimmy Sams has refused to take the commandments down after he was advised the posting was illegal. Sams has said he doesn't care what the US Supreme Court does, he's not taking them down.
The ACLU demanded Clay County commissioners remove the plaque of the Ten Commandments from their chamber or face legal action.
Yesterday, even more plastic copies of the Ten Commandments had appeared in the courthouse.
At a Clay Commission meeting yesterday, with regional TV cameras rolling, Commission president Peter Triplett said he would have to review the Supreme Court decision before he decided his position.
Former Clay commissioner Matt Bragg said that commissioner Sams raised the plaque issue four years ago for political gain during his bid for the office.
"If they don't follow the wise judgment of the highest court in the land then we're going to have to evaluate what our next step will be but, certainly, as it now stands, Clay County is not following the law," says ACLU Director Schneider.
"It keeps government free or it keeps religion free from governmental interference and it allows religion to flourish freely in this country which it has for several centuries," he said.
Schneider said the United States is one of the most diverse religious nations in the world and Americans are very serious about their beliefs.
"In a free country, no one should feel that they are in better standing before the government because they belong to the so-called 'favored religion,' Also, no one should be made to feel like an outsider on religious beliefs or lack thereof."
"I believe it's the same way people of the majority religion in Clay County would feel if a symbol of Islam or Judaism was placed in the county commission courtroom."