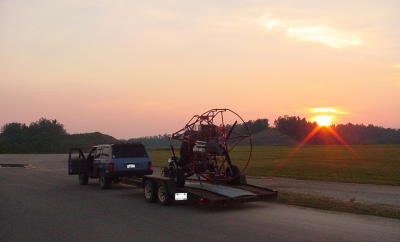 Love of Flying
By Dustin Simmons
My dad owns a Powered Parachute, PPC for short. There are a lot of different companies that make PPC's. My dad's is a Destiny XLT that is made by a company called Alliant Aviation. You can visit their website at www.destinypowerchutes.com.
This PPC can hold two people, the pilot and passenger. To be able to fly a two place PPC, you have to get a Sport Pilot license. This is a new license that was just put in place by the FAA on September 1, 2004. They also make a PPC that just holds one person that does not require the Sport Pilot license, but training is recommended. My dad has a BFI (Basic Flight Instructor) license, so he can train people to fly a PPC.
It is powered by a 582/65hp Rotax engine and has a 500 square foot multi-color canopy, or parachute. It is fun and easy to fly.
To be able to fly one, the winds need to be calm. This is why we fly early in the morning, or late in the evening. It can fly up to 10,000 feet, but my dad has only flown his up to 1,600 feet. It can also fly closer to the ground.
The PPC needs a flat level place to take off and land. My dad usually flies from two places. Boggs Air Field in Spencer or Scott Field in Mineral Wells, but he has just received permission to fly from Calhoun County Park.
Now that we will be flying from the County Park, you will see a lot more of us flying over the area taking pictures. We will be sharing our pictures with the Hur Herald. We hope you like them.
If you have any questions or comments, you can contact me, or my parents, Harry Linda Simmons at luvtoflymyppc@yahoo.com
More information on Simmon's power parachute on their home page